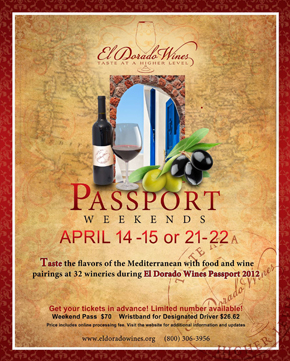 Spring has arrived and it's time for a road trip. Some of my favorite wine regions are stunning at this time of year. Places like the Sierra Foothills and Santa Cruz Mountains offer endless opportunities for adventure from wine tasting to hiking to zip-lining through a redwood forest. You won't want to rush. Take the whole weekend!
April 14-15 and April 21-22
El Dorado County Passport Weekends
Passport weekends are a great way to get to know a region. You'll have the opportunity to meet the people behind the wines, taste from barrels and enjoy wines that aren't always available for public tastings.
Eldorado County is one of my favorite regions in California. It's charming and rustic – a true countryside.
April 14-15
Vertical V Tasting at Terre Rouge Winery, Amador County
Taste three sets of three consecutive vintages: 07/08/09 Enigma, 04/05/06 High Slopes Syrah and 04/05/06 Estate Zinfandel. Complimentary tasting with an array of cheeses. Fun!
April 19
Mountains to Metro, Portland, Oregon
Features wines from Chehalem Mountains and Ribbon Ridge AVAs in the greater Willamette Valley of Oregon. The wineries participating, more than 35, include some of the best in the region.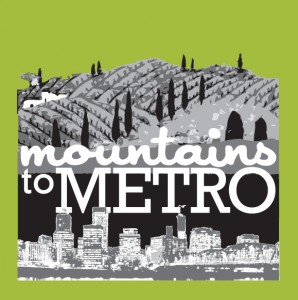 April 21
Santa Cruz Mountains Passport day
Meet the producers of this unique mountain grape growing region. Taste wines and visit small wineries that aren't always available to the public. Enjoy some of the most beautiful natural surroundings of any California wine region.
April 21 & 22
Big Basin Spring Harvest Celebration
This is one of the few days of the year when owner Bradley Brown opens his winery doors to the public. His wines are some of my favorites in the region. Taste his new releases, enjoy live music and take the time to hike to the top of his vineyard for panoramic views of the redwood-covered mountains.
Spring Harvest Celebration at the Winery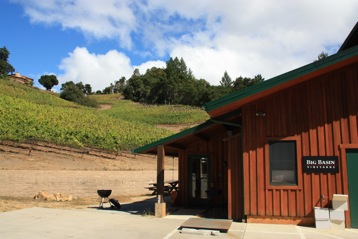 April 22
Earth Day Food & Wine Tasting, Templeton, San Luis Obispo County
Indulge for a day with locally-sourced fruits, vegetables, meats, cheese, olive oils, chocolates and more. More than 200 purveyors of sustainably produced food and wine will be showing off their goods: growers, vintners and chefs. Top it all off with live music and dancing. "We think you'll see that for a bunch of farmers dedicated to sustainability and nurturing the earth, we sure know how to throw one heck of a party!"
April 26 – 28
Hospice du Rhone, Paso Robles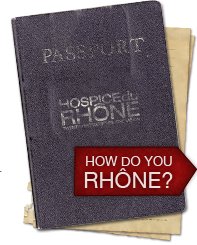 For the past 20 years, three days in the late spring have been reserved for an exclusive weekend surrounding all things Rhône. This event is simply a blast. There is an amazing selection of wines to taste each day from importers and producers, educational seminars and delicious dinners and bar gatherings in the evenings. Warning: you'll need at least a day to recover.
April 28-29
23rd Annual Passport to Dry Creek Valley, Sonoma County, CA
Celebrate the generations of farmers, vintners and families that are the roots of the Dry Creek Valley wine region. Passport guests are welcomed into 50 wineries throughout Dry Creek Valley, each a unique destination offering pairings of wine, gourmet food and great entertainment.
April 28th, 2012 11am-5pm
12th Annual Open House at Vino Noceto, Amador County
Sangiovese specialist Vino Noceto celebrates the release of their estate-bottled, limited production Sangiovese. Hosts and owners Suzy and Jim present their lineup of Sangioveses and other Italian varietals alongside a gourmet lunch and blues music.