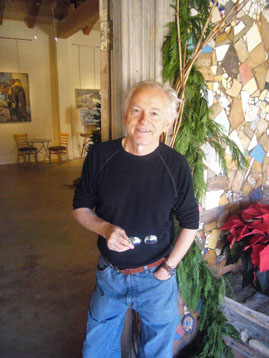 Walter Georis takes multi-tasking to a whole new level. He owns a winery, a vineyard, three restaurants and a record label. He is an artist, musician and grape grower. Fortunately he had the sense to hire a winemaker as he couldn't possibly master one more thing! And it's an interesting story how he found his winemaker, Damien Georis (no relation), an import from Bordeaux. It seems Walter has a life full of good stories.
One is about "Vincent Van Gogh's Table" which sits in a small private dining room at Walter's rustic French/Italian-inspired restaurant, Casanova, in Carmel, California. Van Gogh dined at this table in the final 70 days of his life while boarding at the Auberge Ravoux in Auvers-Sur-Oise, a small artist's village 22 miles northwest of Paris. In 2002, Walter and his family visited the Auberge, which now houses a small museum honoring the life of Van Gogh. After sharing a six-hour lunch with the owner of the Auberge, Walter received the table from him as a gift in honor of their new friendship.
As for how Walter met his winemaker…do you believe in fate? Damien shared his unique story with me recently. He had been making wine at Chateau Olivier, a Grand Cru classé of the Graves region in Bordeaux. An American wine importer visiting the chateau saw Damien's last name and asked if he was related to Walter Georis, a Monterey County resident. Damien told me, "I knew of Monterey because Jimi Hendricks played there, but I didn't know Walter."
Damien learned that the Georis family planted a vineyard in 1982 in the Carmel Valley and started making wine. When Walter reached out to him by phone, the two discovered they had both come from the same small town in Belgium. Thus a friendship was born. They didn't actually meet in person until two years later. And a couple years after that, Walter extended a job offer to Damien, who was just days away from signing a contract on the purchase of a home in Bordeaux. Damien came to Carmel Valley instead.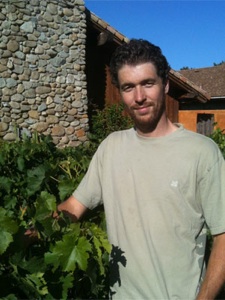 It's no surprise that the wines made at Georis have a French touch. The focus is on Bordeaux varietals: Cabernet Sauvignon, Merlot, Cabernet Franc. The grapes are picked at lower levels of ripeness than is typical in California with lower sugar levels (translating to lower alcohol) and higher acidity. The wines see only a moderate amount of new oak. Damien applies the winemaking techniques he learned in Bordeaux, yet he doesn't try to change the expression of the grape's true origin. This is important to him. "We want to make a wine that respects the terroir," says Damien. "Carmel Valley has unique soils and its own climate. We want the wine to taste like where it's from."
They make a beautiful barrel-fermented Sauvignon Blanc and several exceptional reds: Cabernet Sauvignon, La Chappelle (a Bordeaux Blend) and Cabernet Franc. These wines are something special. If you are typically lean toward European style wines, but appreciate the California terroir, you'll really enjoy these classy wines.
"Great ideas and dialogue go hand in hand with great food and wine.Cafés are social hubs, places for discussion, thought, relaxation, and time with friends."
-Walter Georis on his European-inspired café, La Bicyclette