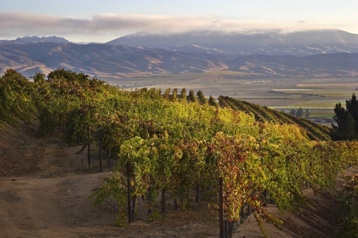 Aero, Irie and Bleecker are important members of the Smith family and fixtures at the Paraiso winery. Aero is an eight-year-old golden retriever who loves bologna sandwiches; Irie is a five-year-old Australian Shephard who sneezes when he meets new people; and Bleecker is a two-and-a-half-year-old Golden Doodle who likes to frolic in the fountain with the birds.
But the real work around Paraiso is done by eight other family members: Rich and Claudia Smith, their son Jason Smith, his wife Jennifer Murphy-Smith, Kacy Fleming (Rich and Claudia's daughter), Dave Fleming (Kacy's husband), Justin Murphy (Jennifer's son) and Megan Murphy (Justin's wife). They all work hard and play hard, creating a culture of passion, quality and enjoyment of life.
Rich and Claudia were in it from the beginning. And I don't mean just the vineyard. They were pioneers of the Santa Lucia Highlands appellation. Among the first to plant in the area, in 1973, their vines are some of the oldest, specifically Chardonnay, Riesling, Pinot Noir and Syrah. They were integral in establishing the region as an official AVA in 1991, and their vineyard was the first in Monterey County to be "certified sustainable." Knowing the vineyard would be in the family for generations (now into the third), they chose to farm sustainably from the start.
Jason grew up on the family's estate and has stories about every hill and ditch. Even as an adult, the vineyard is his playground. Elevations ranging from 50 to 700 feet above sea level provide him with a variety of microclimates and soil types to explore. After building the winery on their property in 2005, Jason's been able to work closely with the winemaker (his brother-in-law, Dave), and the two play out numerous experiments – from planting new clones to adjusting how much new oak they use. Together they aim to get the best, purest expression of the Paraiso vineyard. Although their roles often overlap, they respect each other's talents. Jason often says to Dave, "I'm bringing you good grapes. Just don't screw it up!"
They show off the best block in their vineyard with the Paraiso West Terrace Pinot Noir. And the wine they are most proud of – with only 120 cases produced  – comes from thebestvines on the West Terrace block. This one is called Faite. It's their pinnacle.
Their estate Chardonnay and Pinot Noir, which they make the most of, are half the price of most other SLH wines. Other growers in the region have created notoriety for themselves with vineyard-designate wines, skyrocketing prices in a short amount of time. Paraiso has taken a different approach, and it wasn't necessarily intentional. "When we started out we really didn't know any better," Jason tells me. "We just wanted to make $10 to $15 wines that our friends and family could enjoy and afford."
Unfortunately, the Smith family has learned they can't sustain their business long term with those prices. "We would have to increase production to about 150,000 cases to continue," Jason says. "And we have no interest in doing that." At that size they could no longer perform all the small experiments they do now and might have to say goodbye to wines like West Terrace and Faite, where their true passion lies.
So the bad news is their wines might eventually catch up to the price of their neighbors. But the good news is they are some of the best wines I've tasted from the region, and for now they are an absolute bargain!