Bulmaro Montes says that he and his brother have more than 90 years' experience growing grapes. He means 90 years combined, of course. Still, there aren't many grape growers who can make such a claim. Bulmaro and Manuel are 63 and 72 years old, two of the oldest active growers in the Napa Valley. They are the only people who touch the vines at 2.6-acre Marita's Vineyard.
Bulmaro left his family in Mexico when he was 16 to join his father working in the fields and vineyards of the Napa Valley. His father taught him to farm. Back then they were farming with horses and working 10-hour days, 7 days a week for $1.25 an hour. Now he sells his Marita's Vineyard Cabernet for $150 a bottle.
I visited Bulmaro at his vineyard, which is located in Coombsville, the newest AVA (American Viticultural Area) in the Napa Valley. The region is not new to grape growing though – the first grapes were planted around 1870. There are only about 25 wineries in Coombsville, perhaps the reason it took so long to become an official AVA. The wines differ from those of neighboring regions due to a cooler growing season, an effect of nearby San Pablo Bay and Napa River.
I sat on Bulmaro's porch overlooking the vineyard. It was a typical Napa winter day, about 65 degrees and sunny. A rooster crowed in the background as Bulmaro's cat hunted for rodents in the vineyard. It felt like a farmer's life. When I asked Bulmaro why he decided to plant a vineyard this late in his career (the first vintage was 2005), he told me, "It's for my family."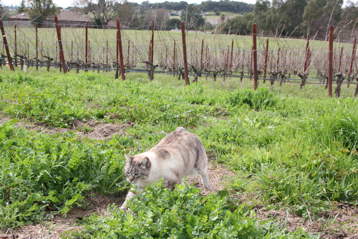 His daughters, Mara and Sophia, help with running and promoting the business. They still keep their part-time jobs while building the business, but they look forward to focusing on the winery full time some day. "It's a lot of work and at times stressful. But it's okay. It's for the family," says younger daughter, Mara, after whom the vineyard was named.
We are not winemakers, we are wine growers," Bulmaro tells me. He says that tending to only 5,000 vines is relaxing compared to when he looked after 750 acres as vineyard manager for famed Joseph Phelps winery (producer of Insignia) where he worked for 30 years. Manuel had also worked at Joseph Phelps where he used his remarkable craft of "water witching" to seek out underground sources of water.
"Few people are doing what we do, making it all from scratch," he says. He talks about how many of the wines produced in Napa come from "companies" rather than owner/grower/winemakers. "Our company is right here." He gestures to Mara standing proudly at his side, ready to take on all that comes her way.
They make only small amounts of two wines – the Marita's Vineyard Cabernet Sauvignon and SOMA, which incorporates the two daughters' names. The SOMA is more suited to the palates of the women of the family – graceful and fruit forward with gentle tannins. The Marita's Cabernet, Bulmaro's pride and joy, is more powerful and concentrated with firm tannins.
Bulmaro has avoided using chemicals in the vineyard from the beginning. He was fortunate to have fought and won a battle with cancer several years ago, but he believes there was a correlation between the chemicals he was exposed to in the vineyards and his illness. For this reason, he farms 100% pesticide-free, preserving the health of his family and the vines.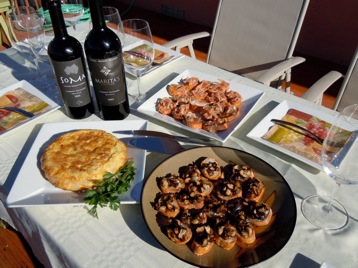 A visit to Marita's is a rich experience that touches on all the senses – the sights and sounds of the vineyard, a flavorful, impeccably presented meal and wines that are silky in texture and layered on the palate. I tasted both the 2006 SOMA and Marita's Vineyard Cabernet with tapas prepared by Pilar, Mara and Sophia's godmother, who incorporates recipes from her home city of Barcelona. She made delicious crostinis, one with fresh tomato, olive oil and prosciutto and another with Gorgonzola cheese and sautéed crimini mushrooms, as well as a fluffy Spanish tortilla (potato omelette). This is how all wine should be tasted!
The Marita's Vineyard wines have enough acid and tannin to age gracefully, but they are certainly enjoyable now. If you ask Bulmaro when he thinks you should drink them, he says, "Why wait?"