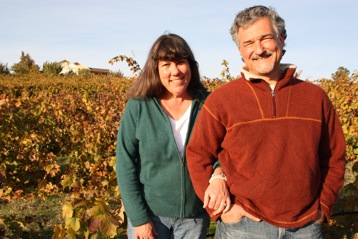 Jonathan Lachs planned to go to medical school — until he became distracted by wine. As a pre-med student in the late 70's, he took a course in winemaking, just for fun. After getting the second highest score in his class for the Grenache he made, he decided to change his life course.
And it was meant to be. He enrolled in the enology program at UC Davis where he met his wife, Susan, another student in the program. It was a wine-lover's fairy-tale: they met at a wine tasting on a warm summer night over a glass of 1980 Chateau St. Jean Chardonnay…
Jonathan and Susan are now business partners at Cedarville, relying only on each other as they have no other employees. When I walked in to the winery, Susan was packing up wine in boxes and Jonathan was on a sales call in the office. They both took turns hosting me in a tasting of their wines at a wooden bar set up in the middle of the winery.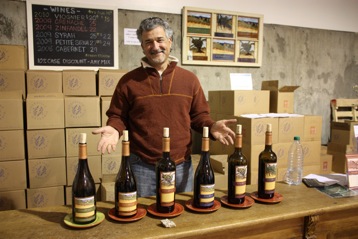 Susan brought Jonathan to the Sierra Foothills for his 23rd birthday, and they've been drawn to the region ever since. "The first significant wines post-prohibition were made here," Jonathan tells me. They chose their name, Cedarville, in honor of a nearby ghost town (founded in 1852) that boomed for ten years during the Gold Rush.
Jonathan and Susan searched for three years before buying their property in Fair Play, a region characterized by a series of hills, making each property different from the next with distinctly different wines. Their house sits at the vineyard's high point, a 2,500-foot elevation that even gets snow on the vines in winter, allowing them to keep a close eye on the vineyard.
In 2010 they made the commitment to farming their vineyard organically, largely because they live on the property and spend so much time in the vineyard. "I wanted to be able to re-enter the vineyard within hours after spraying, not days," Jonathan says.
Sustainability is also a priority — "being good stewards of their land, giving back to their community, running their business for a profit and considering the social and carbon footprint of their business decisions." Jonathan tells me about a recent encounter he had while picking grapes. First he saw a baby jackrabbit hopping through the vineyard; then a couple hours later he saw a fox. "We're part of an ecosystem," he says.
The first grape variety they planted in 1995 was Grenache, the wine Jonathan got such high praise for as a pre-med student. They also make Viognier, Zinfandel, Syrah, Cabernet Sauvignon and Petite Sirah, all of which I recommend. Jonathan says Grenache, Viognier and Syrah express the greatest sense of place, with much influence from the granitic soils on their property. Their Zinfandel (not often a favorite for me) is bright and light on its feet. When grown at a high elevation like Cedarville's, it retains the natural acidity needed to balance a typically fruit-heavy wine. Jonathan says Cabernet has tremendous potential for the area and adds, "We turn heads with that wine."
I see couples like Jonathan and Susan who work together, and work encompasses every aspect of their lives. There is little escape when they live on the vineyard. I wonder, aren't they just ready to kill each other? But Jonathan and Susan, like many of the other winery-owner couples I've met, seem genuinely happy. Just being around them for a couple of hours, their mutual respect and strong bond of friendship are obvious. And even with all the pressure and stress of owning a business, they go the extra mile to do the right thing – for the environment, for society and by each other. Maybe that's what happens when you are living your dream and sharing it with the person with whom you built it.
The Cedarville wines can be purchased on their website. Tastings are by appointment only.