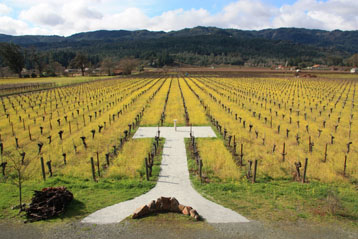 Looking out across Cathy Corison's vineyard, I see a clear delineation between her vineyard and her neighbor's. The difference? Cathy's Kronos vineyard, home of some of the oldest Cabernet Sauvignon vines in the Napa Valley, is covered in vibrant yellow mustard flowers. Her neighbor's vineyard is brown. Cathy attributes the health of Kronos to 16 years of organic farming, a practice few others in the valley have embraced.
Cathy has never taken the path of least resistance, including deciding to get her Master's degree in enology in the late 70's when only a few other women had jobs in the wine industry. Although she was one of the star students in her class, her professor told her she wouldn't get hired in the Napa Valley. But she proved him wrong, working as a winemaker for four wineries before becoming the first woman winemaker proprietor in Napa in 1987.
Even now, after 30 years of making wine in the Napa Valley, Cathy is considered a bit of an outsider. She's gone against the grain with a less popular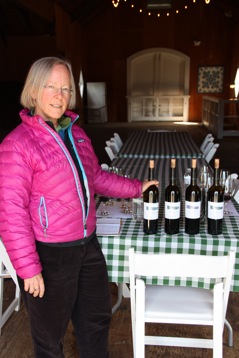 winemaking style – lower levels of alcohol (under 14%), less ripe fruit, softer tannins. And for this she's been flying under the radar, until recently. The San Francisco Chronicle just named her "Winemaker of the Year" for 2011. Jon Bonné, the Chronicle's wine editor, refers to her as "Napa Valley's unofficial voice of restraint." Another wine writer calls her the "female Clark Kent of Napa Cabernet." A heroine.
"It's all coming back around," Cathy tells me, referring to the style of wine that once reigned in the Napa Valley in the 70's and early 80's. More critics these days are praising winemakers like Cathy, using words such as "elegant," "nuanced" and "finesse" to describe their preferred wines. But Cathy's been true to her style regardless of the trends, which has earned her much respect in the industry.
Her winery is far from being off the beaten path, located on Highway 29, one of the most traveled wine routes in the world. But with a modest building, an old barn replica designed by her husband, and modest wines, she is "hidden in plain view," as Bonné says.
When I met Cathy in person, I found her to be charmingly "real," wearing a Patagonia coat and brown corduroy pants, with no makeup, a simple bob hairstyle and rimless glasses. As we spoke about organics, she went off on a tangent about the chemistry of sulfur in wine and then apologized for boring me.
Cathy says she wants to keep the "table" in "table wine." She wants her wine to be enjoyed with a meal, which is how I had my first Corison wine – on the table at a friend's dinner party. And here I was, years later, tasting four vintages of Corison Cabernet without food! It seemed so wrong. I enjoyed the wines nonetheless, including a new wine she is making – a delicious, dry Gewurztraminer made from some of the oldest vines in the Anderson Valley (Mendocino County), one of my favorite "backcountry" regions.
Standing on the balcony of her winery before I left, I listened to Salvador, Cathy's vineyard worker of ten years, singing to the vines. It had been raining most of the morning, but for a few brief moments the sun was shining, as if to show off the glowing mustards in her healthy old vineyard. Cathy has no grand plans for her brand – she wants to keep it small. She hopes to spend her days of retirement driving a tractor around the Kronos vineyard.