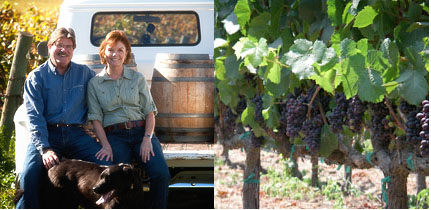 Not too long after the Santa Lucia Highlands became an official AVA (American Viticultural Area) in the early 1990's, Dan and Donna Lee bought a 65-acre property in the northern end of the region. Their vineyard, which they named "Double L" ("Double Luck" for their twin daughters, Annie and Jackie), is now one of the best-known vineyards in California.
Their vision for this mountainside region started about 10 years earlier, when Dan began sourcing grapes from growers in the area for the Morgan Pinot Noir. Since then, Dan has been a key player in establishing the region and building its reputation as a producer of high quality wines with a unique sense of place.
The Double L vineyard was organic from the start – the first vineyard in the Santa Lucia Highlands to be certified organic. The vineyard is also "certified sustainable" and remains the only vineyard in the region to have both designations. Dan explains that sustainability is about the "bigger picture," taking into account all aspects of vineyard operation: social responsibility, clean water, energy conservation and maintenance of existing habitats. Organic is specific to the exclusion of chemicals in the vineyard.
Although the Morgan winery has been around for 30 years, Dan still recognizes the importance of getting out and telling his story. I was reminded of how much I like these wines when I ran into him this week at a wine tasting in San Francisco. He greeted me with a smile and enthusiastically told me about each of his wines, as if this were his first time presenting them.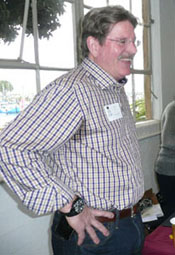 He makes a wide range of wines, including, under a separate label called "Lee Family Farm" (not actually from his own vineyard), a Tannat from Lodi. I recommend as a starting point the Morgan Cotes du Crow's, an inexpensive 50/50 blend of Syrah and Grenache, or the Monterey Syrah. But know that better things await you. Try his mid-range Twelve Clones Pinot Noir, Highlands Chardonnay or R&D Franscioni Vineyard Pinot Gris. Or jump straight to the top with any one of his 11 single-vineyard wines, most importantly the Double L Pinot Noir and Chardonnay. Regardless of where you begin, there is much to explore, and the journey will be rewarding.
Watch a video of the Double L Vineyard Fly-In