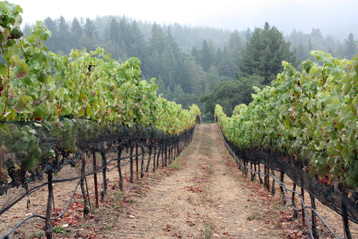 Despite the fact that the Big Basin Vineyard is on Memory Lane, I can never remember how to get there and get lost every time I go. It's easy to lose orientation, looping through miles of thick Redwood trunks on narrow, winding roads that rise and fall in elevation, with the sun making infrequent appearances through a dense canopy of trees or hidden completely by a heavy layer of mist.
I'm usually lucky enough to find some local driving a pick-up truck or riding a bike to guide me to the nearest shortcut—an even more narrow, untraveled road not found on Google Maps that slices through the mountain and spits me out half a mile from Bradley Brown's vineyard. The first thing I always do when I arrive is ask for the bathroom.
Bradley discovered his vineyard site in 1998—a small clearing of land on a steep hillside surrounded by tens of thousands of old Redwood trees that make up Big Basin State Park. He recalls the day he was shown the property, crawling through overgrown brush and ten-foot tall poison oak bushes in search of the remnants of a vineyard first planted in the early 1900's.
"It was the Wild West," Bradley says, referring to the downfall of the property since the last owners abandoned it in the 1960's. Vines were left unattended; the winery equipment and iron gate to the entrance were stolen; local kids drove four-wheel trucks up and down the hillsides causing landslides and grew hemp in the overgrown vineyard. All Bradley found when he arrived were a few hand-split redwood stakes that once held up the vines, some rogue grape vines and his own vision that someday the site would produce great Syrah.
Bradley looks as though he's come from the Wild West. He has tanned weathered skin, untamed brown hair and an intense blue-eyed gaze that seems to reflect experience beyond his years. There is a hint of Clint Eastwood behind his peaceful, Zen-like energy.
Bradley farms the vineyard himself. He comes from a family of farmers dating back to the 1600's in the Catskills region of New York. He worked on his parents' organic farm while growing up, which ingrained in him the philosophy that runs his vineyard today. As to why he farms organically, "It's just part of who I am. It never seemed right to poison the soils," he says.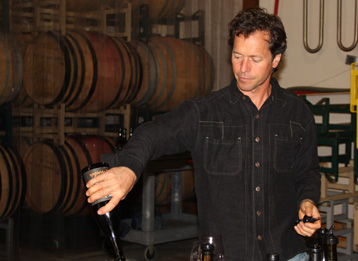 Winemaking is also in Bradley's blood. His father was a home winemaker. "There was always a bottle of wine at our dinner table and a well-stocked cellar. I probably drank more from that cellar than my dad did," Bradley says with a devilish smile.
It is no surprise Bradley's older brother, Derek, became a wine enthusiast too, developing a passion for wines from the Rhone Valley while living in France for seven years. He even worked a harvest in the Vacqueras region of southern Rhone in 1994. Derek told me he's had a bottle from every vintage of Vacqueras since it became a wine appellation in 1989. It was through his brother that Bradley had his first exposure to Rhone wines and grew to love the Syrah grape.
When I reach the top of the vineyard, following a self-guided tour Bradley has mapped out for guests, Big Basin feels pretty isolated. All I can see beyond the vines is a seemingly infinite forest of Redwoods, dense and impermeable under a creeping mist. The nearest vineyard, not visible from here, is six miles away. Bradley tells me that ten years ago there were only 600 acres planted to vines in the Santa Cruz Mountains and now there are 1,500. It's still a small region (Sonoma County has 60,000 acres planted to vines).
At the time Bradley bought the property, no one else in the Santa Cruz Mountains was growing Syrah. He was truly a man with a vision. Everyone else was focused on Pinot Noir. Even today, Bradley has the only vineyard in the region planted solely to Rhone grapes (varieties originating in the Rhone Valley of France).
In the Rhone Valley, the best Syrahs are grown on hillside vineyards, like Bradley's. The steep slopes provide the right amounts of sun and wind exposure, good drainage and poor soils that make the vines struggle, contributing to the structure and intensity of wine. Hillside vineyards are harder to farm as everything has to be done by hand, but the results are worth the effort.
Bradley honors the history of the site with wine names like "Frenchies Ranch," a name given to the property by one of its previous owners. A photo of the original property sign appears on his Frenchies Ranch Syrah. Bradley's "Homestead Syrah" is a tribute to the first settlers who homesteaded the property in the 1880's as part of the Homestead Act.
Some of the original vines still grow on the property and can be seen crawling up trees as far as 50 feet from their original planting. Bradley has taken cuttings from these vines and replanted them to discover what old varieties grew there in the early 1900's.
Bradley now has a son, Kirin, who was six months old when I visited the vineyard in mid-September. The grapes on the vines were just turning colors—veraison. I watched Bradley bring a small, colorful bunch over to Kirin and place it in the tray of his stroller waiting for a reaction. Kirin looked at the grapes, uninterested, and then up at his father. Of course Bradley hopes his son will share his passion for the vineyard, but he won't force it. "You can lead a horse to water…" Bradley says, giving up on Kirin for the moment.
I ask Bradley how having a child has changed him. Has the vineyard become less of a priority? He thinks for a minute before answering, "If anything, it's made me more driven to succeed. I have to make this work now."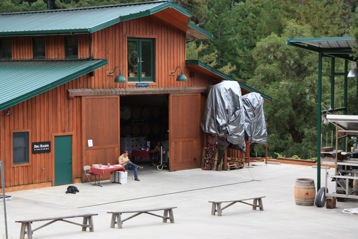 Bradley grows Syrah, Grenache and Roussanne on his own property and makes Pinot Noir from other cool, organically farmed vineyards in the Santa Cruz Mountains. He has rebuilt the winery on the original homestead site using selected Redwood from his property. His wife, Samantha, teaches yoga in a studio above the winery. The couple hosts wine and yoga weekend retreats. Bradley says the two activities are complementary, as both require paying attention to and fine-tuning the senses. Bradley vows to keep the property at least 90% in its natural state and residents include bobcats, deer, fox, and coyotes. It is the Wild West indeed.
Recommended wines:
Mandala Syrah
Homestead Syrah
Woodruff Family Pinot Noir
Alfaro Family Vineyard Pinot Noir
Frenchies Ranch Syrah
Rattlesnake Rock Syrah