The first time I visited Drew Family Cellars I was driving an hour and a half longer than expected. I drove 115 miles northwest from San Francisco to the small, rural town of Boonville, the heart of the Anderson Valley grape-growing region. My directions to Jason Drew's winery were misleadingly simple—drive through Booneville (this only takes about 30 seconds) and turn left at Greenwood Road.
I hadn't anticipated Greenwood Road to be a narrow, winding road that climbs several hundred feet and takes 45 minutes to drive 20 miles. When I emerged from a forest of Redwoods and Douglas Firs—a scenic drive to be appreciated when not in a hurry—all I saw were orchards and farms. I drove right past Jason's dark wood, barn-style winery, hidden in the middle of his 17-acre apple orchard.
When I reached the town of Elk on the coast where I could finally get cell phone reception, I called Jason. This time, he gave me very specific directions for coming back, "Look for mile marker 4.67 and turn right into our driveway."
The Drew winery is in the Mendocino Ridge AVA (American Viticultural Area) where vineyards qualify if they are 1,200 feet or more above sea level and within 10 miles of the Pacific Ocean. Jason's site is only 3.5 miles from the ocean, probably the closest of any vineyard in the area. The AVA is made up of a series of ridges so hilly only 2% of the land is suitable for planting. The ridge tops rise above the coastal fog zone garnering the nickname "Islands in the Sky."
Last December I met Jason for coffee in Napa, a much easier journey for me. He had just come from a biodynamic growers conference. This was the first I learned of his plans to be 100% biodynamic when he plants his 7-acre vineyard this June on his property.
Remembering my last adventure in search of his place, I nearly spit out my coffee when Jason declared that the greatest asset of his vineyard site is "location, location, location!" I felt I should remind him that he's a 3-hour drive from San Francisco and 1,250 feet above the ocean on a ridge. His kids ride 30 minutes by bus to go to school in Mendocino, a town with a population of 824. In my book, he's pretty remote. So what could be so great about this location?
"It's ideal for growing grapes," he told me. The ocean breezes keep the temperatures cool—great for Pinot Noir, a grape that only thrives in cooler climates. And since the property is a few hundred feet above the fog line, there is plenty of sunshine. This means the grapes will always ripen. The site has the perfect balance of cool air and sunshine, wind to keep vines dry and disease-free and soils that allow vine roots to penetrate deep into the earth. The result: high quality, intensely flavored wines with good acidity and lower levels of alcohol. In other words, balanced and delicious.
I asked Jason what he thinks is the most important factor in making great wine and he told me there are three. "Location is the most important, then farming. No wait…" he stopped himself. "Farming is equally important because you can't express what's special about the location unless you farm the vineyard right. Third is winemaking."
By "farming it right" Jason means naturally. "Biodynamic farming is the closest you can get to a true expression of the site," he said. "I am just the conduit. By healing and taking care of the land, I'm giving the vines everything they need to be their best."
He said the apple orchard he's been farming organically for six years gives him a good indication of the potential of the site for growing quality grapes. "You taste these apples and you just know. It all translates."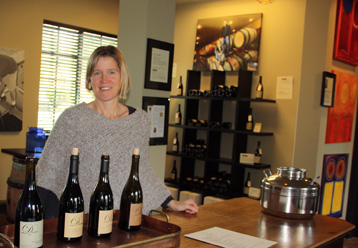 Jason's wife, Molly, in addition to managing their tasting room in Philo, maintaining their website and helping Jason make blending decisions in the cellar, looks after the flock of sheep that now grazes their orchard. Jason tells me, "The orchard, sheep, chickens and beehives are all part of a symbiotic community that will support the health of the vineyard." The sheep clear weeds and fertilize the land. The bees pollinate and produce honey (Jason and Molly will be making an apple blossom honey this year). The chickens provide eggs for the family and dig up weeds and pests.
There are other important contributors too—a blind Welsh Corgi named Grizzly who helps herd the sheep. I asked Jason how a blind dog herds sheep and he responded, "Well, I didn't say he was good at it, but he does manage to round them up." They have another dog, Bogs, a yellow lab who is just fun to have around.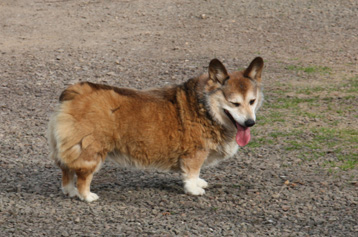 Their two sons, Aidan (9) and Owen (12), also help out, particularly when they have the right incentive. Jason tells me, "They love the juice." He said are motivated to help him in the cellar just before the grapes go through fermentation. Once they test the sugar levels, they get to set aside a bucket for drinking later. They also help him out with punch-downs, a pretty labor-intensive, less rewarding job. And sometimes they decide they've had enough and say, "Okay, Dad, I'm going to play with my friends now."
Jason said his greatest challenge is picking the grapes at exactly the right time. "Most people pick when the grapes taste optimal, but I like to pick just before this," he said. He used the analogy of a rosebud that is picked before it blossoms. "The grapes are still ripening in the cellar. When they first come in, they still have half their lives ahead of them. If a vine has already given you its best, which is when most people pick, then it's too late."
So how do you pick grapes just before they reach optimal flavors and ripeness? "Intuition," Jason said. "Sure, you have to take into account taste and smell, but also what the vines feel and look like, where they might be headed. A lot of it is instinct and experience with the vineyard."
When I visited the Drew winery again this January, I spent some time wandering around the property enjoying the community—thickly coated sheep I could swear were smiling at me; chatty chickens congregating in a newly planted vegetable garden; rows and rows of apple trees whose delightful fruit gives Jason hope for his vineyard; a cat sitting on top of a garbage can, its throne, assessing the playing dogs a few feet away; Jason and Molly, a young sweet couple raising their family in a loft above the winery, building and nurturing this healthy, symbiotic community.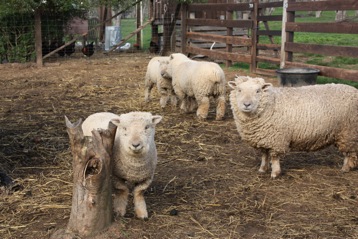 I stood next to the winery, looking out at the expanse of tree-covered hills that lie beyond their property, and I imagined that if I stepped beyond the edge or reached out to touch the pointy treetops that dipped below the horizon, I would be floating too, just like the islands in the sky.
Before I left, Jason gave me a bottle of his Valenti Vineyard Pinot Noir from a vineyard just up the road from him, which he said would give me a good indication of the quality and character I can expect from his own vineyard. Then he said, "And if you come back in the fall, I will give you some apples."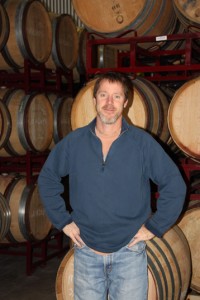 Recommended Wines:
2009 Valenti Vineyard Pinot Noir, Mendocino Ridge
2009 Gatekeepers Pinot Noir, Mendocino Ridge
2009 Morning Dew Vineyard Pinot Noir, Anderson Valley
2009 Fog-Eater Pinot Noir, Anderson Valley
2008 Ornbaun Syrah, Mendocino Ridge
2010 Wentzel Vineyard Albarino, Anderson Valley (tasting room only)