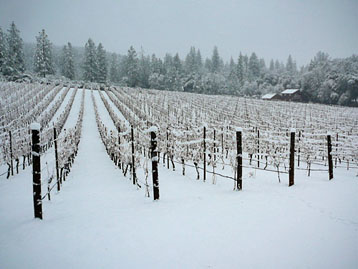 When Bill Easton was seven years old, in the late 50's, his parents would drag him along to tasting rooms in what is now known as the Sierra Foothills AVA (American Viticulture Area). While his parents were sipping Zinfandel, the seeds were being planted for Bill's lifelong fascination with the Sierra Nevada mountain range and the grapes growing in its foothills.
In Bill's parents' home, there was always a bottle of wine on the dinner table, and since he was twelve, his parents let him enjoy a glass of wine. Well, not a full glass. Initially they filled it for him—a third ice, a third water and a third wine. Then, as he got older, the portions changed—less ice and water, more wine. So by the time he was in high school, he was drinking a full glass of wine with his meal.
Bill continued to enjoy wine when he was in college. To stretch his student budget, he would buy it in four-gallon jugs from a local winery in Albany and rebottle it himself into 750ML bottles so it wouldn't oxidize. When the winery was hiring, Bill got a job transporting bottles, corks and cases up to Sonoma, working in the tasting room and helping in the winery at harvest. The more he learned about the business, the more his passion for wine grew. In 1978 he and two partners purchased a wine shop in the East Bay for $7,000.
Bill and his wife, Jane, began traveling to Europe to seek out new producers. Not only did they discover wines that perfectly characterized the regions, but they found foods that did the same. Nine years after opening the store, Bill bought out his partners and added a wine bar—the first wine bar in the East Bay—featuring regional pairings. Inspired by cuisines from their travels, Jane created a menu with a European flare. One of her specialties was cassoulet, a rich, slow-cooked stew typically found in the country in the south of France. I once read that the best cassoulet can be found in the kitchen of a farmer's wife. Jane made everything from scratch, preserving the duck three to four weeks in advance for their annual cassoulet festival, always a sold-out event.
Wines from the Rhone Valley won Bill's heart. He found that the area he grew up in, where he visited all those wineries with his parents, had similarities to the Rhone Valley, particularly in the hillsides and granitic soils of the Amador County. In 1985 Bill began making wine and in 1994 sold the store to build Terre Rouge in Amador's Shenandoah Valley with a focus on making Rhone varietals (Syrah, Grenache, Mourvedre, Viognier). The term "Terre Rouge" means red soil, which can be found in a mix of volcanic and granitic soils common in the region.
Because of the rocky, mineral-laden soils in which the grapes are grown, many of the Terre Rouge wines are well structured with significant tannin. They need years in bottle to develop and relinquish their flavors. But Bill is a patient man. While some wineries use modern technology to speed up the aging process, Bill allows for the wine to evolve naturally. As with the more serious wines of the Rhone Valley, Bill's wines benefit from patient cellaring. "Most good wine gets better with age, particularly red wine," Bill says. He releases his wines when they are ready to be enjoyed. And they are worth waiting for.
Bill is a bit of a geology nut and an encyclopedia when it comes to the Sierra Nevada. He has been an explorer and enthusiast of the mountain range for years. He even named his son "Ridge." He has a poster at the winery showing an image of 14,000-foot Mt. Darwin and lists his Syrahs in ascending order up the mountain based on elevation of the vineyards. I asked him about that mountain once and he said he took the photo while backpacking and mountain climbing in the Sierras years ago. He told me that many of the peaks in the area were named by UC Berkeley professors after their favorite evolutionary biologists.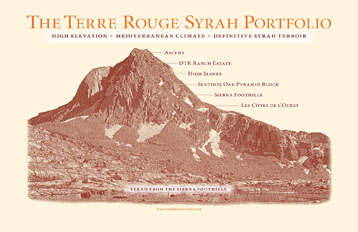 The Sierra Foothills, Bill believes, is one of the few places in California able to show true "terroir" in its wines. The climate can be extreme—at Bill's "home ranch" vineyard in Fiddletown it snows on the vines in winter and heats up to 95 degrees in the summer—and the soils are diverse. The terrain in mountain ranges represents millions of years of transformation. The Sierra Nevadas were once under the sea, formed by lava and carved by glaciers. This variety of soils allows for multiple expressions of grapes growing in the region. Bill aims to highlight these varied expressions through his wines. "Mountain vineyards produce the most interesting wines—wines that show character and a sense of place," Bill has told me.
Covering eight different counties, the Sierra Foothills is one of the largest, most diverse AVA's in California. Through his own wines, Bill shows the range of possibilities of this complex region offering seven different Syrahs from four of the counties—Placer, El Dorado, Amador and Calaveras. To best highlight the varied terroirs and optimize the personality of these distinct vineyard sites, Bill prefers organic farming. "It's like holding a microscope to the vineyard," he says. It's a long-term commitment though. "With organic farming you are growing the soil and not just growing the plants."
Bill strives to be as "green" as possible in his winery and vineyard. The winery and tasting room are solar paneled and get 90% of their electrical power from the sun. Barn owls (and cat "Bart") reside on-site to keep the rodent population in check. Wine bottles are made from 25% recycled glass. The Syrah vineyard is composted with green waste from Berkeley, San Francisco, Amador County and areas in between.
Jane and Bill still enjoy hosting food and wine events (where they only use reusable or recycled plates and utensils, of course). Jane is a cookbook author, a chef and a teacher. Some of her mouth-watering seasonal recipes can be found on the Terre Rouge website under "Jane's Kitchen." I love the story she wrote called "Ode to a Pear Tree," about a lone pear tree in Fiddletown, a survivor of the Gold Rush days, more than 100 years old. Once a year this tree is picked by Bill on his way to the vineyard, bearing more pears than they know what to do with, ending up as the main ingredient in a seven-day meal schedule Jane outlines for her readers.
Bill is part of the history of the Sierra Foothills. He has been drinking wines from the region since he was 12 and making wines for 25 years. He is one of the most knowledgeable and experienced winemakers in the area. His Fiddletown Zinfandel comes from some of the oldest vines in the Foothills, in the Rinaldi-Eschen vineyard, dating back to 1865. Fortunately for me, Bill loves to share his knowledge and doesn't seem to mind when I bombard him with questions. Even if I contact him during harvest, the busiest time of year for a winemaker, I get detailed accounts of what's happening in the vineyard—what's been picked, what's still hanging on the vines, the challenges of being a farmer.
Sometimes he apologizes for overwhelming me with information, but I love all the details and appreciate his passion. Bill's philosophy, he told me, is simple and underlies everything he does: practice, passion, focus. I'd say it's a bit more romantic than that. I'd say he was destined to do what he does, and to me, Bill represents what the Sierra Foothills is all about: character.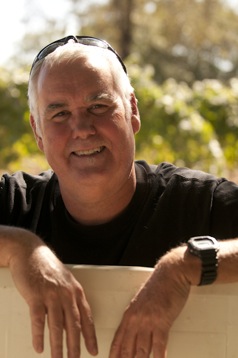 Recommended Wines:
2009 Terre Rouge Grenache Blanc, Sierra Foothills
2008 Terre Rouge Viognier, Shenandoah Valley
2008 Terre Rouge Tête-à-Tête, Sierra Foothills
2007 Terre Rouge Syrah, Les Cotes de l'Ouest, California (Clements Hills)
2006 Terre Rouge Syrah, "Sentinel Oak", Shenandoah Valley
2006 Terre Rouge Syrah, "High Slopes", Sierra Foothills,
2006 Terre Rouge Syrah DTR Ranch Estate, Fiddletown
2007 Easton Old Vine Zinfandel, Fiddletown (Rinaldi Vineyard) – Vines dating back to 1865!