When I'm traveling along the Central Coast, I spend a significant amount of my time in Paso Robles. There are so many new wineries to explore, and the wine quality is getting better each year. Paso Robles, Edna Valley, Arroyo Grande and York Mountain are all part of San Luis Obispo Country, but many of my favorite wineries are in Paso Robles.
Because of the variety of soils and microclimates in the Paso Robles AVA, there is no limit to the types of grapes that can be grown there, and people are thinking outside the box. These wineries have done their share of experimenting and are making intriguing wines. I'll be writing a separate post soon about some wonderful producers focusing on more traditional grapes, such as Cabernet Sauvignon, but in the meantime, let's have some fun!
San Luis Obispo County
Mailing List, Winery Website or Local Retail/Restaurants
Kinero Cellars – Owner and winemaker, Anthony Yount, is considered one of Paso Robles's most promising young winemakers. His day job is winemaking for Denner Vineyards , also highly recommended (but there is a waitlist for its mailing list). Kinero is a white wine project, which Anthony says is an inspiration from his father who used to like red wines only (goal: to make a white wine even his father would enjoy). At this time Kinero wines are only available through its mailing list and website: notplonk.com $22-$35.
ONX – Steve and Brenda Olson purchased and planted Briarwood Vineyards in the Templeton Gap area of Paso Robles. Opting not to play it safe with just the traditional or more popular grapes, they planted 20 micro-blocks with a mixture of Rhone, Spanish, Bordeaux, Portuguese, and Italian varieties: Grenache, Syrah, Mourvedre, Cabernet Sauvignon, Petite Syrah, Tempranillo, Zinfandel, Alicante Bouschet, Primitivo, Malbec, Viognier, Sauvignon Blanc and Grenache Blanc grapes.
The couple hired winemaker Brian Brown, who specialized in ultra-premium small-production wines in the Napa Valley (Vineyard 29 and Round Pond). ONX offers vineyard tours by appointment Thursdays, Fridays, Saturdays and Sundays. You can also join the mailing list. $25-$55
Paso Robles Tasting Rooms
Rob Murray Vineyards – Rob Murray has overseen everything from large-scale fruit banana and stone fruit farming operations in Hawaii to boutique vineyards for small growers on the Central Coast of California. He owns three vineyards in Paso Robles and Santa Barbara County. The "Force of Nature" wines have cool labels reminiscent of Game of Thrones and are well priced around $20: Pinot Gris, Tempranillo, Zinfandel, Cabernet Sauvignon and Chardonnay. He has a wide range of single-varietal wines and fun blends. He's opening a tasting room in his new Tooth & Nail winery at the end of November. $20-$60.
Terry Hoage – Terry was an NFL football player for thirteen seasons. He played on six teams, including my home team, the San Francisco 49ers, and won a Super Bowl with the Washington Redskins in 1992. Now he and his wife, Jennifer (winemaker), farm a 26-acre organic vineyard and make exceptional Rhone-varietal wines (Grenache, Syrah, etc.). $25-$80. Tasting room is open Thursday-Monday.
Brecon Estate – For years Damian Grindley has been crafting highly awarded wines across the United States, Australia and Europe. On his newly purchased vineyard property, he has some of the first plantings in the Adelaida district of Westside Paso Robles, from which he is making (not yet released) an Old Vine Cabernet Sauvignon. His Cabernet Franc comes from the highest point of the 1400-foot-elevation vineyard, and newer plantings include Petit Verdot and an imported "mountain" clone of Argentinian Malbec. His brand new, rustic chic tasting room is open Thursday-Monday.
Derby Wine Estates – Family-owned Derby makes some fun blends from 24, mostly Spanish and French, grape varieties planted in three vineyards throughout San Luis Obispo County. Ray and Pam Derby just built a new tasting room and winery in downtown Paso Robles, which is open daily. Even the people working for the Derby's have a family connection – Tiffinee Vierra makes the wine and her husband, Steve, farms the vineyard. $24-36.
Herman Story – Russell From is a great host. I always have fun and make new friends whenever I visit since he seems to surround himself with good people. For some insight into Russell's personality and humor, visit his website. In fact, you should go there now (and then come back). His small winery and tasting room are in downtown Paso Robles, open Thursday-Sunday. His grapes come from many of the top vineyard sites in Santa Barbara County.
And I had to include this as I'm a cider lover: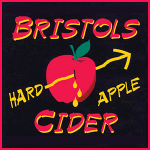 Bristols Cider House – Bristols is a part of the Lone Madrone winery in Paso Robles, owned and operated by winemaker Neil Collins (winemaker for Tablas Creek) and his sister, Jackie. While their ciders are poured in local spots along the Central Coast, some of their more obscure and quirky bottlings can only be found at the Cider House. Open Thursday-Sunday.