Remember when you first discovered your favorite band and you saw them playing in a small venue where you stood close enough to see the lead singer sweat? And then that band became everyone else's favorite and now plays in places like the Greek Theatre, and you need binoculars to see them. That's what it feels like when I discover a new winery. The good news is the wineries I've listed here are still small and somewhat under the radar. Some have just released their first wines in the last few years. So you can say you heard about them first before all your friends did! The bad news is you can't run out to your local wine shop and pick these wines up in a jiffy. Most can only be ordered through the winery website or by emailing the winemaker, and only one has a tasting room (AVA Santa Barbara). While it might not be the most convenient, you just might want to get your hands on these people's wines before everyone else does.
For me, this is the fun of exploring the Central Coast. Here are some winemakers on the rise in Santa Barbara County.
Santa Barbara County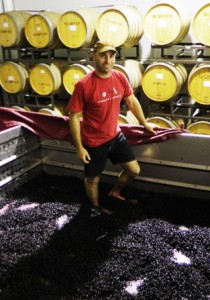 Site – This is Jeremy Weintraub's baby. He's the winemaker for well known Adelaida Cellars in Paso Robles and has had winemaking and grape-growing stints in Napa, Central Otago and Martinborough (New Zealand), Tuscany and even Long Island. His grapes come from famed Santa Barbara vineyards Bien Nacido, Larner and Stolpman. Jeremy has so far only released two wines under 100 cases of each, both whites, only available through his website. Keep an eye out for the release of his Syrah and Grenache-based wines. $40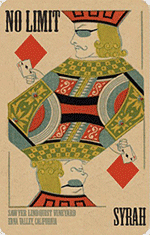 No Limit – Ethan Lindquist is related to one of my all-time favorite winemakers in California, Bob Lindquist of Qupe wines (read about Qupe). Ethan is quickly climbing to the top of my list as well. He has an incredible ability to apply the structure and nuances of French-style wines to California-grown Syrah. Grapes for the No Limit wines come exclusively from Qupe's biodynamically farmed vineyard in the Edna Valley. Harvesting occurs only on "fruit days" according to the Biodynamic lunar calendar and grapes are stomped by foot upon arrival at the winery. These wines are truly hand-made. The wines aren't available for tasting, but you can taste wines from his other brand, Ethan, at the Qupe tasting room in Los Olivos. $60+
Chanin – Gavin Chanin was named one of FORBES' "30 under 30" in Food and Wine and a "Winemaker to Watch" by the San Francisco Chronicle. The FORBES article came out when Gavin was just 25 and both mentions were within the first five years of launching his own brand. Natural talent? Perhaps. But he's also worked very hard to learn as much as he did in a short amount of time. His focus is on Pinot Noir and Chardonnay, two grapes that he recognizes are especially revealing of subtle differences in geography, geology and climate. He searches out old vines, and makes wine from some of the oldest in the Santa Barbara County. $35-$60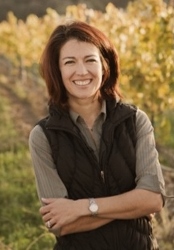 Nagy – Two winemakers, Clarissa and Jonathan Nagy, married in 2003. For their wedding they co-made one barrel of Viognier, which they bottled and gave to their guests. That was the beginning of the Nagy brand. Clarissa now makes Pinot Blanc and Pinot Noir from two top vineyards sites in the Santa Maria Valley, as well as Viognier and Syrah from Los Alamos Valley in one of the cooler Syrah-growing areas in Santa Barbara County. The wines are beautifully balanced and meticulously made. $24-$48  info@nagywines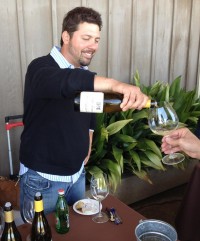 La Fenetre – Joshua Klapper makes elegant Chardonnay and Pinot Noir from top sites in the Santa Maria Valley and the Santa Rita Hills, such as Bien Nacido Vineyard, Cargasacchi-Jalama Vineyard, Cedar Lane Vineyard, Le Bon Climat Vineyard, Los Alamos Vineyard and Sierra Madre Vineyard. His single vineyard wines are the show stoppers, but I can't help but mention his A Cote Pinot Noir which is a staple in my wine stash for $20 (you might actually find this one at your local store). Single vineyard wines are $40+.
Osseus – Sauvignon Blanc lovers, here's one for you. Eric Mohseni's day job is winemaker for Zaca Mesa, one of the pioneer wineries of Santa Barbara County focused on Rhone varietals. But Osseus is about Eric's passion for Sauvignon Blanc. His affinity for the grape began back in 1999 when he worked harvest in Hawke's Bay, New Zealand. Eric gets his grapes from one of my favorite Sauvignon Blanc areas in California, Happy Canyon, in the Santa Ynez Valley. $18  eric@osseuswine.com
AVA Santa Barbara – TASTING ROOM – The best place to learn about all the wine regions mentioned above is Seth Kunin's recently opened "AVA Santa Barbara" tasting room in downtown Santa Barbara. Seth has a vision to take people on a tour through each of the five unique AVA's  (American Viticulture Areas) of Santa Barbara County one glass at a time. A large chalkboard mural (featured above) offers a great visual of the region's topography, soils and microclimates. It's a true education and the wines are delightful. If you are in the area, you should also check out Seth's Kunin Wines as well, at a separate location.