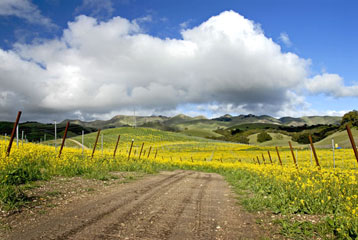 Bob Lindquist talks about the rhythm of the vineyard, which seems appropriate for a music enthusiast. It was music, in fact, specifically the band the Kinks, that changed his course in 1979 and led him on the path that eventually culminated in Qupe.
His first wine job was working in a vineyard for the 1975 harvest after college. I've always believed the best place to start one's wine education is in the vineyard. Whether you are a winemaker, buyer, seller or drinker, if you hope to understand wine in its entirety, find out what happens in the vineyard. Bob is one of the most experienced, knowledgeable winemakers I know, so it's no surprise this is where he got his start. "It gave me a real appreciation for the hard work that goes into making a bottle of wine," Bob says.
A few years later he was managing a small wine shop in Los Olivos when the Kinks announced they were doing a concert at the Santa Barbara Bowl. When his boss denied his request for the day off, Bob and friend, Jim Clendenen, strategized on how they could go to the concert. Jim worked for Zaca Mesa winery and offered to put in a good word for Bob if he lost his job for missing his shift. So they went to the concert. And before he knew it, Bob had a job at Zaca Mesa winery. He spent four vintages there and started making his first wines under the Qupe label in 1983.
Bob and Jim now share a winery in the Santa Maria Valley where Jim makes wine under his own label, Au Bon Climat. The winery is modest, referred to by Bob as the "modern stone-aged winery." No fancy gadgets or high-tech equipment to show off—just plain old-fashioned winemaking. What is obvious is a sense of community, often manifested through a kitchen and long oak dining table that sit in the middle of the winery, but mostly through shared ideas and a common goal of producing high quality, classically styled wines. They have a unique track record for churning out successful winemakers who were mentored within their walls. Their passion is infectious. Practically everyone in Bob's family is now a winemaker, including his two sons and his wife, Louisa, who makes Spanish varietals under the label Verdad. Their daughter, Paige, manages the Qupe tasting room and wine club.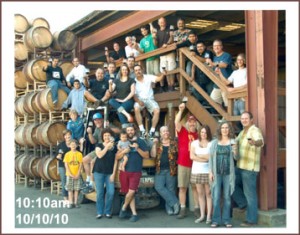 Now, 36 years after his first harvest, Bob is back to spending time in the vineyard—a lot of time. In 2005 he and Louisa bought an 80-acre piece of land in the Edna Valley, half of which they planted to a biodynamic vineyard of Grenache, Syrah, Tempranillo, Pinot Noir, Marsanne and Albarino.
For years Bob has had access to some of the best vineyard sites on the Central Coast—the winery sits in the middle of the famous Bien Nacido Vineyard, the main source of grapes for the Qupe wines. He has unique grower relationships, able to plant and farm as he wishes. So why, with this great setup and after all these years of making wine, would he choose to take on the challenge of planting his own vineyard?
"It happened by accident," he told me. "Louisa and I were driving around the San Luis Obispo area looking for a site to build a home and we found this beautiful cattle grazing land with rolling hills. It was more land than we needed, but we both had the same thought—this would be a great place to grow grapes."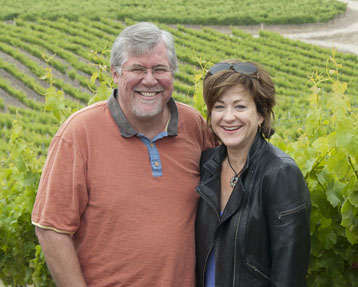 Eight years later they still haven't built the house, but their vineyard is thriving. Bob attributes the vine health and grape quality to their farming method. "When you farm biodynamically you get better fruit quality and expression of terroir. Using chemicals, the flavors become more generic," Bob says. Terroir refers to the environmental variables that make a vineyard site unique—the influence of soil and climate in particular. Some people refer to it as a "sense of place." It's what makes wines from different regions, vineyards or sections of a vineyard taste different. Winemakers like Bob are committed to highlighting these differences.
The Sawyer-Lindquist vineyard (Louisa's last name is Sawyer) has three large gardens filled with native plants that attract beneficial insects—bees, butterflies, ladybugs. There are six owl boxes throughout the vineyard. Owls are natural predators to gophers and squirrels, pests that can destroy the vines from the roots up. A flock of 150 sheep come in a few months a year, supervised by a local shepherd, to help with weeding and fertilizing.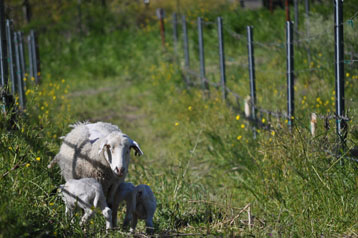 "Seeing the quality of the grapes these last two vintages has been a real confirmation that we are farming it the right way," Bob says, gleaming.
Bob is almost always smiling. Whether talking about wine, music or life, he exudes a joyful spirit with a glimmer in his eye (or is it the reflection off his glasses?) and a big smile framed by the hair of his beard reminding me of the mischievous Cheshire Cat. Bob is happy if everyone at his party is having a good time. The few times I've had the pleasure of joining his crew for lunch at the winery, he pulled out old bottles of Qupe from the cellar to share with his guests. "Did you get to try the 01 Rousanne yet?" he would ask me, handing the bottle over, making sure I was included.
Bob has led the way in the production of Rhone varietals in the Central Coast. He's one of the original Rhone Rangers, a group of winemakers who came together in 1997 with the goal of promoting the production and awareness of Rhone grape varieties (varieties originating in the Rhone Valley of France) planted in the U.S. He was the first to make Syrah and Viognier in Santa Barbara County and the first to make Marsanne in California.
Although Bob is a celebrity in the wine community, he doesn't act like it. Subtlety is a component of his personality as much as it is of his wines. He doesn't have to speak loud to be heard and doesn't need to be the star. Just like with his wine, you don't see it all up front. The character comes through gradually. Bob is full of life experience, good stories and nearly 30 years of winemaking and grape-growing history. Yet he's one of the most approachable winemakers I know. And he's genuine. He never tries to sell people on his wines or his biodynamic approach. He lets the wines speak for themselves. Whenever I see him at a wine tasting and come over to his table to taste his wines, he only talks about his wines if I ask him. Instead, he says, "How are things?" and we just talk about life.
Since Qupe's inception, Bob has adhered to a winemaking philosophy and unique style that define his brand. Year after year, Bob strives to make wines that are balanced in acidity and alcohol and speak of the place from which they came—wines that he enjoys drinking himself. "The Europeans had it right," he tells me. "A wine is meant to be shared by two people over a meal without getting smashed."
I asked Bob if he's ever strayed from his classic style of winemaking as he's seen the bigger, riper wines get more attention from wine critics. "Not on purpose," he says. 2003 and 2004 were hot vintages so the grape sugar levels shot up at harvest time and turned into higher alcohol wines. Bob says, "They were popular. They got higher scores. But they haven't aged as well."
Making wines that are age-worthy is important to Bob. A wine's ability to age is often viewed as a sign of quality and balance. For me, it is also a reminder that wine is not a commodity but something that's alive and continually evolving, even after it's in the bottle. Wine collectors put bottles in their cellar with the expectation that they will be more interesting and complex when opened years later.
"A wine can age well if it has good acidity and the alcohol is in balance," Bob explains. "In a cool climate, like the Santa Maria Valley or the Edna Valley, the grapes have more acidity and a longer growing season that enables me to pick at lower sugar levels." This translates to lower alcohol in the wine. Bob says his wines can age for 10-20 years on average.
Bob remembers visiting the "new" Santa Barbara wine country back when he was in Los Olivos managing the wine shop. "I would visit the wineries on the weekends and fell in love with the place. I thought, 'this is where I want to be.'" His tasting room is in Los Olivos, his winery in the Santa Maria Valley and his vineyard in the Edna Valley. Yet he manages to spend plenty of his time in the vineyard, which he says is essential.
"Biodynamic farming requires a lot of owner participation. You can't just hand the work over to a group of laborers," he tells me. "You have to nurture the soil. The vines are living and breathing. It's important for me to stay connected and in tune with the land and to follow the vineyard's natural rhythm." Spoken like a true music fan.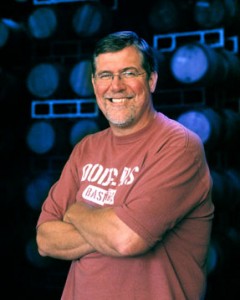 Recommended Wines:
2009 Qupe Marsanne, Santa Ynez Valley
2008 Qupe Roussanne "Bien Nacido Hillside Estate," Santa Maria Valley
2008 Qupe Syrah "Bien Nacido Vineyard" Santa Maria Valley
2008 Qupe Grenache, Sawyer Lindquist Vineyard, Edna Valley
2008 Qupe Syrah, Sawyer Lindquist Vineyard, Edna Valley
2006 Qupe Syrah "Bien Nacido Hillside Estate", Santa Maria Valley
2010 Verdad Albariño, Sawyer Lindquist Vineyard, Edna Valley