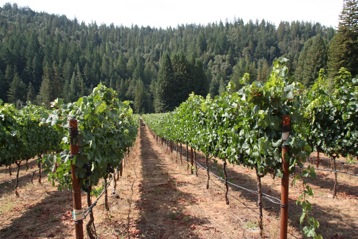 For years, the Anderson Valley has been a favorite getaway of mine – small, off-the-beaten-path, delicious cool-climate wines plus interesting and friendly people. I've talked about a few of the same wineries repeatedly, all of whose owners have vineyards in the area and continue to produce high quality wines that accurately represent the appellation: Drew Family, Elke Vineyards, Foursight. But there are also many top wineries based in other areas, such as Sonoma, that are making fantastic wines from grapes grown in the Anderson Valley: MacPhail, Littorai, Williams Selyem and others.
Because of limited resources in the valley, it's difficult for newcomers to come in and develop. So for a long time, it hadn't occurred to me to seek out new wineries from this particular wine region. But on a recent trip, I was surprised to discover several new players in the area – people who have been there all along growing grapes or working for other wineries and who have now started their own brands.
When you visit, plan to stay at least one night but try for two. I like to stay at The Little River Inn – fifth generation family run, dog friendly, great locally-focused restaurant and bar with golf and tennis onsite and rooms with balconies and ocean views (perfect for sipping a glass of rosé while watching the sunset). It's about a 30-mile drive from the wineries, along the coast and through a redwood forest, and two miles from the town of Mendocino. You can find a great deal on rooms here.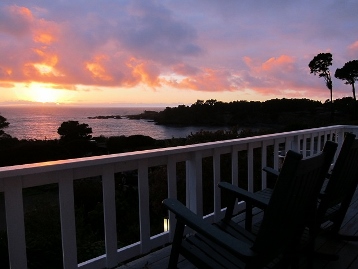 A note on the environment:  The locals tell me that as the region has become more popular, it's been a strain on the local resources. So when you visit, please do your share to clean up after yourself, conserve resources, hike/bike more, drive less, etc. And be sure to appreciate the pristine nature along the coast and in the forests and mountains surrounding the wineries.
Here are some of the newer wineries I discovered:
Lichen Estate
Founder and previous owner of Breggo Vineyard, Doug Stewart owns and operates a 203-acre farm, including a 7.5-acre organic Pinot Noir and Pinot Gris vineyard. Doug set up his tasting room in a house right next door to Breggo in Boonville, an unlikely setting for a tasting room but utterly charming and reminiscent of the country.
Doug is making top-quality sparkling wines, as well as Pinot Noir and Pinot Gris. He has three wines available now: 2010 Blanc de Gris from Willamette Valley (sparkling), Solera Pinot Noir, which is aged in a similar method to Sherry, and 2012 Les Pinot Noir & Gris (60% Pinot Noir, 40% Pinot Gris).
11001 County Rd. 151, Boonville
Call or email for appointment:
(707) 478-4218
info@lichenestate.com
Lula Cellars
On Jeff Hansen's business card, his job title reads "Grand Fromage." Anyone speak French? He brings 20 plus years of grape growing and winemaking experience to his new wine brand, Lula. Having worked for larger wineries in the past, Jeff always wanted to make small-production wines that he would sell directly to consumers (no distributors or retailers involved). And so he does. Jeff is likely the person you'll find behind the counter of his tasting room, speaking passionately about his new vineyard in Philo and pouring whichever of his wines haven't sold out from his limited selections:  Mendocino Coast Pinot Noir, Zinfandel, Dry Gewurztraminer or Dry Rosé.
8627 Hwy 128, Philo
Open seven days a week from 10am to 5pm.
Phillips Hill
This is one of my favorite tasting venues of all time. It's situated in a two-story restored "apple dryer barn" on a former sheep raising and apple growing operation. You get to relax and enjoy your wine at a wood bar overlooking a creek amidst lush green trees and the last remaining apple rows.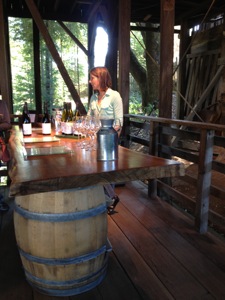 Partners Natacha Durandet and Toby Hill provide imported rustic French cheeses and authentic charcuterie with their food-friendly wines. They manage to bring together a great culinary experience with the unexpected elements of natural beauty and local history.
5101 Hwy 128, Philo
Open daily 11am to 5pm.
(707) 895-2209
Baxter
Father and son partners, Phil Baxter Junior and Senior, produce handcrafted single vineyard wines from highly regarded sites throughout the Anderson Valley and surrounding Mendocino appellations. The grapes are sustainably grown, and the wines, aged in all neutral French oak, have a pureness of fruit reflecting the unique identity of each vineyard site.
8660 Highway 128, Philo
Taste with Claire Baxter Thursdays through Mondays 11am to 5pm
(707) 895-3173
Balo Vineyards
Originally planted in 1998, Balo Vineyards is a small, family owned winery. Its wines are made entirely from estate grown fruit and mature vines. In 2009, they selected their best fruit and made the first Balo wine. Their winemaker is Jason Drew of Drew Family Cellars who has been using Balo fruit for his famous "Fog Eater" Pinot Noir for several years.
This one is very dog-friendly – even has an outdoor, enclosed dog recreation area.
9001 Highway 128, Philo
Open Friday to Monday, 11am to 5pm
(707) 895-3655
Bink Wines
Deb Schatzlein's grandparents set the mold early, making gin in their bathtub during Prohibition. Deb has degrees in chemistry and biology and has taken extensive coursework in viticulture and enology. After a career as a chemical process engineer, she eventually decided to ditch her day job and follow her passion for winemaking.
Deb's vineyard is actually in the Yorkville Highlands appellation, just next to the Anderson Valley, but she has a tasting room in the valley and is part of the community there. Here you'll find a little different mix of wines including a Merlot and Merlot/Cabernet Sauvignon blend.
9000 Highway 128
Philo, California
(707 )895-2940
Open Wednesday – Monday, 11am to 5pm
Angel Camp Vineyards
Angel Camp is a family owned winery dedicated to sustainable farming practices and non-intrusive wine making techniques. Their tiny Philo estate is planted to 12 acres of Pinot Noir, and they only make three wines with very limited availability.
If you want to know where the name comes from, read owner Brian Zalaznick's touching story of how he got his inspiration for the vineyard: Angel Camp Vineyards Story
Tastings are by appointment only and can be reserved on their website.
Witching Stick
Van Williamson started making wine in the Anderson Valley in 1987 at Greenwood Ridge Winery. He spent many years as winemaker for Edmeades, the first winery to plant grapes in the Anderson Valley, before starting his own project with partner Anne Fashauer.
Witching Stick's current offerings include Gianoli Pinot Noir, Cerise Pinot Noir and Fashauer Zinfandel (the 2010 is the lowest alcohol Zinfandel I ever tasted at 12.8%).
Their tasting room will be opening in March 2014. They do vineyard tours by appointment.
info@witchingstickwines.com.