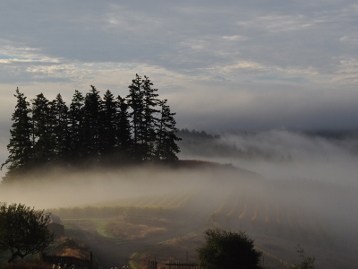 I would like to introduce you to a grape growing area you likely haven't heard of: the West Sonoma Coast. Chances are you've seen plenty of wines labeled "Sonoma Coast," but that AVA (American Viticultural Area) encompasses more than 500,000 acres of land and includes vineyards more than an hour from the coast. So what is considered the "true" Sonoma Coast? Well, of course, it's the part that actually lies along the coast.
The West Sonoma Coast has a uniquely rich concentration of top wine producers in our state – they are the Who's Who of Sonoma Coast wine. A couple of years ago, a group of grape growers from the "true coast" got together and formed the West Sonoma Coast Vintners, which includes only 40 wineries making Pinot Noir, Chardonnay and Syrah from Annapolis, Fort Ross/Seaview, Occidental, Freestone, Green Valley and the Sebastopol Hills. Many of their wines are hard to find – perhaps only available through winery mailing lists – and you won't see them being poured at the larger Sonoma tastings.
In a couple of weeks, the West Sonoma Coast Vintners are hosting a weekend-long event that gives wine lovers a rare opportunity to taste and get to know this small group of producers: West of West Wine Festival. I much prefer these intimate tastings where you can talk to the grower/winemaker/owner and sample outstanding wines from one distinct growing region (compared to a tasting I'm attending at the end of August with a whopping 200 Sonoma producers). Most of these winemakers choose just a couple tastings a year at which to share their wines and often don't have tasting rooms.
It's worth it to go just for the wine, but there will also be an assortment of specialized local foods to enjoy as well: Hog Island Oysters, Boccalone Salami, Point Reyes Farmstead Cheese Co., Liberty Duck, Olio Olive Oil (this is an Italian Olive Oil imported by a local winemaker), Rocker Oysterfellers, Trois Cochon Pates, Village Bakery and Taylor Made Coffee.
It's exciting to realize there are still plenty of small, distinct growing regions yet to be discovered, divided and understood in the state of California. We are a relatively young grape growing country (compared to France). "Viticulturally speaking, the map of California is still being drawn," says The Wall Street Journal.
Don't miss this opportunity to get to know this new growing region, and perhaps visit a few vineyards that will make you feel as though you are near the end of the earth.
"At our core, we are a community of farmers. This is our home, not just our livelihood, and we are proud of it." – West Sonoma Coast Vintners
West of West Wine Festival
August
2, 3, and 4
The event will be held in Sebastopol, just one hour north of San Francisco. Details here.
The "All Access Passes" are sold out, but you can purchase events a la carte (I'm going to the Grand Tasting on Sunday).
Here are a few of my favorite wineries to look out for:  Ceritas, Baker Lane, LIOCO, MacPhail, Littorai