If you are like me, you're feeling the post-holiday blues and need something fun to look forward to. There are plenty of activities in wine country this month that will give you a reason to get out and explore. Check out new regions, taste with winemakers, discover new restaurants and learn. Most of the events I've included are in the smaller, off the beaten path regions (big surprise!), but I've included a few of the larger ones for variety. All but a couple are in Northern California as that's where most of the wine regions are (sorry out-of-towners, come visit!).
January 8, 15, 22, 29
Souper Sundays, Vino Noceto Winery, Amador County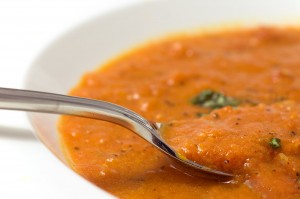 When it's cold and blustery outside, all you want to do is curl up next to a blazing, warm fire. Or … you can warm up at Vino Noceto with some hot, yummy soup and soul-warming wine! Every Sunday in January, Vino Noceto offers a wine tasting paired with winter soups from fantastic local restaurants.
January 1-31
Napa Restaurant Month
Throughout January, participating restaurants at favorite local spots like Oxbow Public Market, the Napa Riverfront and Main Street will offer special menus and pricing. In addition to restaurant deals, select lodgings downtown have partnered with dining establishments to offer special room rates for guests. Mustard starts to bloom in late January so you might see some of those pretty yellow flowers in the vineyards.
http://www.donapa.com/events/page/restaurant-month-in-downtown-napa
January 2 – 31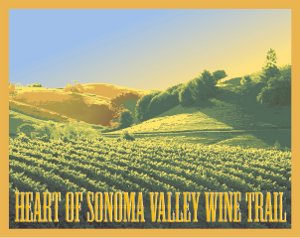 Heart of Sonoma Valley Wine Trail Pass
Enjoy a complimentary wine tasting and 10% off select wines at 17 wineries throughout the Heart of Sonoma Valley. Select one of two options: One-Day Pass $20, Two-Day Pass $35
January 14 & 15, 11am-4pm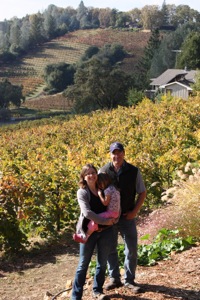 Winter Patriarche Barrel Tasting, Holly's Hill Vineyards, Eldorado County
Holly's Hill winemakers, Carrie and Josh, will guide you through a tasting of the 2011 "Patriarche" wine components (Mourvedre, Syrah, Grenache and Counoise) from barrel and the 2010 Patriarche (bottled). You'll have the chance to talk to two of the nicest winemakers around and see their beautiful vineyard. Light appetizers will be served. $5.00 per person.
January 14 – 15, 11am – 4pm
20th Anniversary Winter Wineland, Northern Sonoma County
This is the 20th anniversary of Winter Wineland and a great opportunity to meet winemakers, taste limited production wines, new releases or library wines.  Some wineries will offer food pairings and others will have tours. Each participating winery will either host an artist for the weekend or have an educational display to help you learn about vineyard management or wine making. 140 wineries are participating. Advance Online Ticket Prices: $45 Weekend,  $35 Sunday Only, $5 for Designated Drivers
Tip: For a more intimate experience, go to the wineries that don't allow groups of 8 or more, buses or limos.
http://www.wineroad.com/events/winter_wineland/1
January 20-29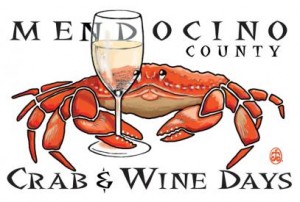 Mendocino County Crab & Wine Days
Mendocino's Crab and Wine Days is rated one of America's Top 10 Seafood & Wine Festivals by Coastal Living Magazine. Choose from all-you-can-eat crab feeds, winemaker's dinners, wine competitions, crab cruises, cooking classes, family-style cioppino feeds, crab cake cook off and lots of seafood! Many restaurants and Inns are celebrating with specials and events throughout the county, from the coast to the inland valleys.
http://www.visitmendocino.com/festivals-events/2011-01-21/mendocino-county-crab-wine-days
January 21, 11am – 5pm
Santa Cruz Mountains Passport Day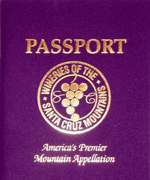 Passport is your opportunity to meet the talented winemakers of the Santa Cruz Mountains and to see where and how they produce some of the world's great wines. Some of these wineries are not open to the public except on Passport days and many pour special wines or barrel samples on these days. Price: $40.00
January 22, 2-5 pm
Santa Cruz Mountains Wine & Crab Taste-Off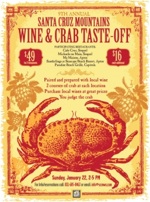 Enjoy a day of wine from the Santa Cruz Mountains matched with crab dishes specially prepared by local chefs.  Buy a ticket for $49 and you will get the opportunity to taste two crab selections at two restaurants and wine tasting at all five restaurants!
January 22-28
Santa Ynez Valley Restaurant Week
Restaurants throughout the Santa Ynez Valley are offering special 3-course tasting menus for the price of $20.12 (excluding tax, tip and beverages).  Reservations are highly recommended.  Please contact restaurants in January for specific dining hours and menus.
http://www.visitthesantaynezvalley.com/component/content/article/41
January 28-29
El Dorado County Barrel Tasting Weekend
A self-guided tour of 27 wineries throughout the El Dorado foothills  –  just an hour from Sacramento or South Lake Tahoe and about 2 hours from the Bay Area. You'll get a preview of what's already being called an extraordinary 2011 vintage, as well as the opportunity to taste older wines and learn more from local vintners. Wineries serve samples straight from the barrel and offer light food pairings and demonstrations. Weekend Pass: $35 

Wristband for Designated Driver: $10
El Dorado Barrel Tasting Tickets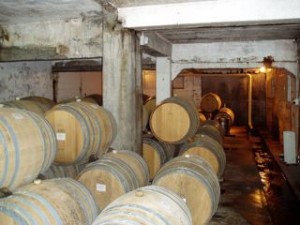 January 28, 2-5pm
ZAP Grand Tasting, San Francisco
Savor the journey through the world's largest single varietal tasting as you sample from hundreds of barrel samples, new releases and premier Zinfandels. Meet winemakers from each of the unique Zinfandel growing regions and explore the dimensions of this authentically American varietal. $49 ZAP members – $59 Non-Member (online) – $69 Door
The Concourse, 8th & Brannan, San Francisco. Purchase Zap Membership and Tickets
January 28
Pinot Days Southern California, Santa Monica CA

If you love Pinot Noir and live in the LA area, this is a must attend event. The Grand Tasting will showcase over 125 phenomenal producers and up to 400 Pinots from every important domestic Pinot Noir region, from the Russian River Valley to the Santa Lucia Highlands, Oregon to Carneros, the Anderson Valley to the Sonoma Coast to the Santa Rita Hills. Taste the highly acclaimed 2009 vintage, and talk with the gifted winemakers who created these beautiful wines. Local specialty purveyors will be serving foods that pair well with Pinot.
Pinot Days Tickets and Event Information