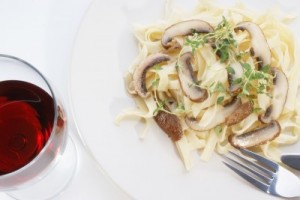 Does it surprise you that someone who has a good palate for wine also has a good palate for food? I've met many great winemakers who are as passionate about food as they are about wine. My conversations with them often stray from the topic of wine to reminiscing about a memorable meal. Many are talented cooks; others delight in dining out or sharing a wonderful meal with friends. Great winemakers understand how flavors work together in balance and harmony, whether they are at the dinner table or among barrels. For this reason, I thought I'd ask some of my favorite winemakers what food I should pair with their wines. These were their answers:
Bill Easton, Terre Rouge & Easton Wines, Sierra Foothills
2007 Easton Old Vine Zinfandel "Rinaldi-Eschen"
Pair with: Spanish Lamb Stew with Chiles (see recipe)
2008 Terre Rouge Roussanne
Pair with: Tagine of chicken with fennel, oranges and olives (see recipe)
Read about Bill Easton here
Buy his wine: terrerougewines.com
Mary Elke, Elke Vineyards, Anderson Valley
2009 Mary Elke Pinot Noir
Pair with: "This is mushroom season and I love my Pinots with wild mushroom risotto, or a mushroom-onion ragu over pasta."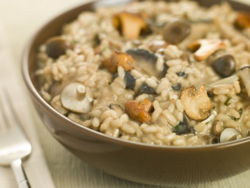 Mary Elke Brut Sparkling
Pair with: Raw oysters or Thai/Asian fusion
Read about Mary Elke here
Buy her wine: elkevineyards.com
Bradley Brown, Big Basin Vineyards, Santa Cruz Mountains
2009 Big Basin Vineyards Homestead (46% Grenache, 43% Syrah and 11% Cabernet Sauvignon)
Pair with: Braised lamb shanks cooked with ginger, garlic, cumin and coriander
Read about Bradley Brown here
Buy his wine: bigbasinvineyards.com
John Cabot, Cabot Vineyards, Humboldt County
2007 Cabot Vineyards Humboldt Syrah
Pair with: Pasta with wild chanterelle mushrooms, caramelized onions, garlic, chicken, sun dried tomatoes, and kalamata olives in a rosemary cream sauce.
2007 Cabot Vineyards Klamath Cuvee (60% Syrah, 20% Cabernet Sauvignon, 15% Zinfandel, 5% Merlot)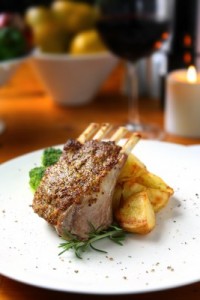 Pair with: Lamb lollipops (rack of lamb) with generous use of ground pepper (or Montreal Steak Seasoning), Yukon gold potatoes and grilled zucchini.
Buy John Cabot's wine: cabotvineyards.com
Jonathon Lachs, Cedarville Vineyard, Sierra Foothills
2009 Cedarville Vineyard Viognier
Pair with: Dungeness crab with lemon butter.
2008 Cedarville Vineyard Cabernet Sauvignon
Pair with: Prime rib with a traditional au jus or mustard cream sauce.
Buy Jonathon's wine: cedarvillevineyard.com
Jim Schultze, Windy Oaks Winery and Vineyards, Santa Cruz Mountains
2009 Windy Oaks Estate Cuvee Pinot Noir
Pair with: Anything that has mushrooms – a vegetarian mushroom dish, or chicken or game hen with a mushroom sauce
2008 Windy Oaks Pinot Noir "Wild Yeast"
Pair with: Duck breast "The earthy character of this wine brings out the flavors of the duck."
Read about Jim Schultze here
Buy his wine: windyoaksestate.com
Josh and Carrie Bendick, Holly's Hill Vineyards, Sierra Foothills
2009 Holly's Hill Grenache Noir
Pair with: Salmon with a caper cream sauce (see recipe)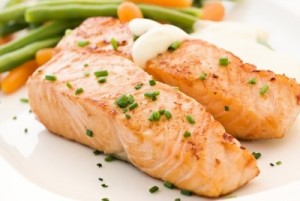 Buy Josh and Carrie's wine: hollyshill.com
Bob Lindquist, Qupé, Santa Maria, Santa Ynez and Edna Valleys
2009 Los Olivos Cuvée (47% Syrah, 29% Mourvedre, 24% Grenache)
Pair with: "I like the same kinds of food that you would often pair with a balanced Pinot Noir." Mushroom risotto or grilled salmon.
2008 Syrah "Bien Nacido Vineyard"
Pair with: "One of my favorite Syrah dishes is grilled bone-in chicken thighs marinated in a combination of syrah, soy sauce, garlic and a healthy dose of jalapeño pepper."
Read about Bob Lindquist here
Buy wines: qupe.com
Most of these wines are available only through the winery. If you can't get the wines in time for the holidays, try to at least match the varietal with their food recommendations. But keep in mind, these winemakers are as skilled at concocting a delicious wine as they are a delicious meal. So if you don't try their wines now, make sure to do so in the future!