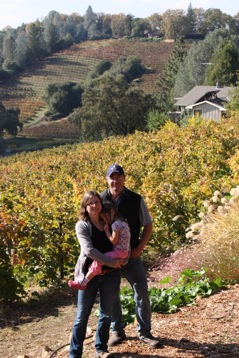 Carrie and Josh Bendick have a two-minute commute to their winery, by foot. They live in a house in the middle of their vineyard – the same house Carrie's grandparents lived in when the vineyard was once a cattle farm. I stood on the balcony of their tasting room as Josh and Carrie emerged from the vines, a steep hillside vineyard as the backdrop, accompanied by the youngest of their three daughters, Esme, and golden retriever, Drake.
We walked by several picnic tables outlining the edge of the vineyard. Food is a welcome component of the tasting experience at Holly's Hill. In fact, Josh and Carrie prefer their wine to be enjoyed with a meal. They host some wonderful food and wine events: oysters and abalone in the spring, paella in September, cheese in November and a five-course pairing lunch for Valentine's Day in February. Visitors are welcome to picnic any time.
Josh and Carrie believe in minimal manipulation with their winemaking so the grape shows through. For them, this means aging their wine in "neutral" or older barrels as new oak can overpower the more subtle fruit flavors. They want to highlight the distinct characteristics of the eight different grape varieties they have planted in their vineyard. One of my favorite Holly's Hill wines is 100% Counoise – a medium-bodied Rhone varietal that tastes of cranberries, raspberries and dried herbs. I also love both their East Slope and Hilltop Syrahs.
For now the Holly's Hill wines can only be purchased online or at the winery. A good excuse to visit! I highly recommend going to one of their wine and food events, which are listed here: Holly's Hill Events. It's a great opportunity to meet Josh and Carrie, two of the nicest people in the wine business, and discover wines you won't find anywhere else.
Holly's Hill Vineyards Website