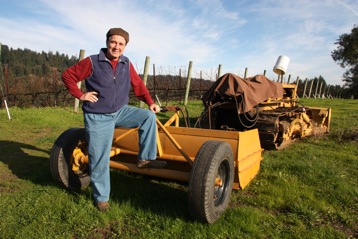 Two old California oaks sit atop a windy ridge in the vineyard, a scene that inspired Jim Schultze's son to suggest the name Windy Oaks for his parents' winery. This section of the vineyard is called the RC Block, a cryptic reference to a famous winery in Burgundy. On his 19-acre vineyard, almost all of which is planted to Pinot Noir, Jim has identified several distinct blocks, or sections: Forest Block, Meadow Block, Oaks Block, Bobcat Block, RC Block and Judy's Block. Judy's Block is named after his wife, Judy, who loves white Burgundy. They now make a mere 140 cases of Chardonnay (the grape used in white Burgundy) from this one-acre block.

I visited Windy Oaks for the first time in 2007 on a sales call when I was selling barrels. The first thing Jim said to me when I arrived was, "Do you want to see the vineyard?" In my two years of selling barrels and visiting more than 100 wineries a year, Jim was the only winemaker that offered me a tour. Seeing what happens in Jim's vineyard is essential to understanding everything he does in the winery.
I answered Jim's question, "Yes, please!" and we hopped on his "Caterpillar," a yellow two-seat off-road vehicle that climbed up the steep hill to the RC block just behind the two oak trees. As we got out, Jim called my attention to the Monterey Bay 1,000 feet below us to the south. "There are hundreds of different microclimates in the Santa Cruz Mountains, a result of the shape of the bay, irregularity of the mountains and differences in elevation," he said. "Just on the other side of that mountain, about five miles away, they are growing Cabernet Sauvignon." Cabernet Sauvignon thrives in a warmer, more temperate climate than Pinot Noir. In France, Pinot Noir is grown in Burgundy and Cabernet Sauvignon in Bordeaux, regions that are 400 miles apart.
Jim showed me a patch of land on a hillside covered in shrubs and trees. This is what the entire property looked like when he purchased it in 1995. The details of the landscape were hidden. Jim said, "I thought to myself, 'this could be good vineyard land' but I didn't know for sure. It required a leap of faith." Today, standing proudly next to the tractor he used to clear the land himself, he said he uncovered a gem. The variety of conditions on this small property makes it a playground for planting vines: various angles and exposures to the sun, a mix of soil types, even slight climatic differences.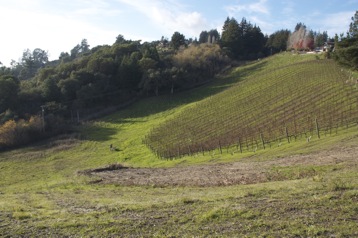 Pinot Noir is Jim's favorite grape variety. Having lived in Europe for seven years, Jim and Judy made frequent trips to Burgundy, the world's most highly regarded Pinot Noir region. "At some point during these visits wine became more cerebral for me," Jim said. Pinot Noir is one of the most transparent grapes for expressing terroir. Since it has the potential to make such interesting, character-driven wines, it is almost a waste to not to grow it in a region blessed with geographical diversity. The topography of Jim's vineyard is ideal for growing Pinot Noir, as is the climate.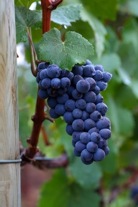 "Pinot Noir has the most potential for complexity and layers when it can hang on the vine for a long time," Jim told me. The temperature in the Windy Oaks vineyard is fairly consistent all year (another gift from the bay). Days are warm and nights are cool. At harvest the grapes can ripen slowly and stay on the vine longer, allowing the full spectrum of flavors to develop before being picked. In a hotter climate, the grapes ripen too quickly and can't hang on the vine that long. This is fine for some grape varieties, but the subtle, complex flavors of Pinot Noir will be lost if the grapes are picked too early.
Jim told me that the Santa Cruz Mountains is the most underrated wine appellation in the world. This is because the region is so small, it doesn't get much exposure. "There just aren't very many people making wine here," he said. There are only 80 wineries and 600 acres planted to Pinot Noir in the Santa Cruz Mountains, compared to 300 wineries and 10,000 acres planted to Pinot Noir in Sonoma County.
And most of the wineries in the region are small. Jim only produces 2,000 cases a year and doesn't plan to expand. "If I were any larger or if I sold my fruit to other people, I wouldn't be able to do the things I do in my vineyard," he said. He is always running experiments, both in the vineyard and the cellar. With meticulous attention to detail, he farms and vinifies each block separately in search of the best possible expression from his site. Jim has 60 barrels in his cellar, and each holds a different wine.
From the beginning, Jim has only made wines from grapes grown on his own property. "I've always thought of grape growing and winemaking as one activity," Jim said, "just as they do in France." In France, they don't have a term for winemaker. They use the term vigneron, which refers to someone who is both a grape grower and winemaker.
Jim was a business consultant until he bought his land in 1995. He learned about grape growing and winemaking in Australia and France where he helped out friends in their vineyards. Still, he decided to take viticulture classes at UC Davis before planting his own vineyard. "I knew how to grow grapes and make wine, but I wanted to know why we did certain things," he said. In a continued effort to learn and improve his techniques, Jim still attends conferences, reads trade publications and returns to Burgundy every year to visit his barrel makers. He tests his latest findings in the cellar and vineyard, performing one or two small experiments every year, then continues using the techniques that made his wines better.
Windy Oaks customers get to share in Jim's "experiments" through his nine different Pinot Noirs. His "Wild Yeast" Pinot Noir is a wine he let ferment completely naturally without inoculation from a commercial yeast. While this can be a risky endeavor, as the wines don't always make it through fermentation, it can often result in more interesting, complex wines. His "Whole Cluster" Pinot Noir is taken from just four to six barrels that he ferments with the stems. Usually Pinot Noir is de-stemmed before going through fermentation as the stems can add harsh or astringent flavors to a wine if not ripe enough. But some winemakers, particularly in Burgundy, leave the stems on for added complexity. To test their ripeness, just like with the grapes, Jim actually tastes the stems before including them.
Even with his experiments, Jim prefers a natural approach. "I do everything I can in the vineyard to maximize fruit quality with the least amount of impact on the land," he said. In the cellar he moves wine around using gravity, which is gentler on the wine than using machine pumps, the standard technique. Tanks and barrels have to be elevated so they are higher than the vessel to which the wine is being transferred. Gentle handling is important for Pinot Noir, a fragile, temperamental grape, particularly in the earlier stages of winemaking when the juice is in contact with the skins. Bruising the skins, just as with any other fruit, affects the quality and flavors of the juice. Rough handling throughout any of the process destroys the more subtle nuances of Pinot Noir.
Judy and Jim have two sons who complete the Windy Oaks team. His younger son, Spencer, is Jim's assistant winemaker and spent five months interning at a winery in Burgundy. The older son, James, manages the marketing for Windy Oaks. Judy runs vineyard tours and hosts small group tastings. She also creates and posts recipes on their website—some Burgundy inspired, some California/Italian inspired—that are all paired with the Windy Oaks wines.
It seems appropriate to me that someone like Jim should end up with such a diverse vineyard site. Few people would be as dedicated to discovering the many facets of this vineyard's personality. Few would be as patient and nurturing and able to coax the myriad expressions from the shy Pinot Noir grape. His ongoing drive to educate himself, improve on best practices and share his findings with his customers makes it a pleasure to be a part of his adventure. I was fortunate to have been offered that initial vineyard tour and to have stood next to the two great oaks with Jim as he pointed to the bay and explained why his vineyard is unique.
Recommended Wines:
2008 Estate Pinot Noir, Cuvée
2008 Estate Pinot Noir, Diane's Block
2008 Estate Pinot Noir, 100% Wild Yeast
2008 Estate Pinot Noir, 100% Whole Cluster (tasting room only or wine club members)
2008 Estate Pinot Noir, Henry's Block
2008 Estate Pinot Noir, Terra Narro