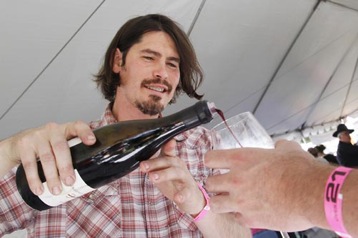 When I first met Brandon Sparks-Gillis, he was speaking passionately about rocks. He was holding one in his hand – a grayish green-colored rock called Serpentinite. It came from the vineyard where he grows his Sauvignon Blanc in a new appellation called Happy Canyon (sounds like a great place, right?). Brandon often carries rocks around with him to help tell his story. The Happy Canyon Sauvignon Blanc has a wonderful combination of intense tropical fruit flavors and minerality, which wouldn't be possible without the Serpentinite.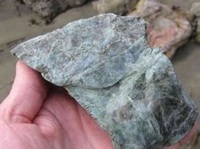 Brandon started Dragonette with two business partners who share their names with the winery: brothers Steve and John Dragonette. It all began with a friendship bound by wine. John was a lawyer, Steve was a software engineer and Brandon was traveling around with a band from Colorado. John, with a vision of making his own wine someday and wanting to taste as many wines as possible, took a break from law to work at a great wine shop in Los Angeles called Wally's. Brandon, who had a similar vision at the same time, started working there too. With a selection of 8,000 plus wines, Wally's was the perfect environment to train their palates and taste benchmark wines from around the world – the wines that would later give inspiration to the Dragonette wines.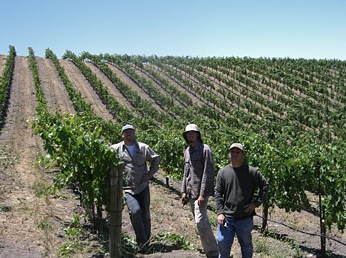 When the three friends decided to start making some wine of their own, they weren't completely without winemaking experience. Brandon had worked at a vineyard in Colorado, and both John and Brandon were able to get hands-on experience after Wally's with some of the top wineries and viticulturists of the world: Sine Qua Non, Torbreck, Fiddlehead Cellars, Demetria Estate and Coastal Vineyard Care.
In 2003 the partners purchased a small batch of grapes from the Los Olivos area, not far from where most of their grapes are grown today. They picked and stomped themselves and made their first barrel of wine together in John's garage. Now they have a slightly larger operation although the business is still 100% owned and operated by the partners and their family members.
I visited their tasting room in Los Olivos recently (a cute little town – I recommend a visit) and spent the morning with John who I was just meeting for the first time. I was struck by the contrast between him and Brandon: John was clean-shaven with short, neatly combed hair, wearing a striped v-neck knit shirt. Brandon often has long hair and a goatee, wears plaid shirts and carries rocks. They might not be two people you would expect to be friends. But wine brought them together.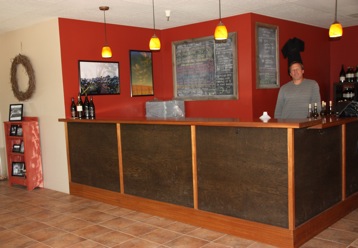 Before we went to the vineyards, John showed me the large map on the wall of their tasting room. It is a map of the Santa Barbara County grape-growing region, including their vineyards in the Santa Rita Hills and Santa Ynez Valley. John explained that Santa Barbara County is among the most diverse regions in the world and, within a relatively small area, has the "sweet spots" for growing the three grape varieties with which they wanted to work: Pinot Noir, Sauvignon Blanc and Syrah. Each of these grapes thrives in very different environments. From their vineyards in the Santa Rita Hills to the west, where they grow Pinot Noir, to their easternmost vineyard in Happy Canyon, a distance of just 35 miles, there could be up to a 30-degree temperature difference (about 1 degree warmer for every mile inland).
The three friends keep busy at harvest time driving to 19 different vineyard sites. Brandon was once advised to hire someone to do the vineyard work so he could spend his time on the road selling wine or managing the business. And he responded, "But I love doing this!"
The partners at Dragonette all want to be personally involved in the vineyards and winemaking. They love making small batches of wine from various grapes and many sites, even though it would be far less work making fewer wines in larger batches.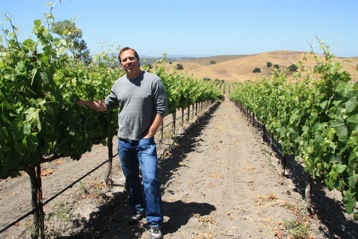 Dragonette is about passion, friendship and making exceptional wine. I really enjoy the wines from this part of California and Dragonette expresses what's truly special about the area. The wines are incredibly balanced with enough fruit intensity, depth and weight to be instantly likeable, but with a freshness and vibrancy that's only possible in the cooler climates of the state. It's obvious their wine was born from experience, from tasting the great wines of the world to working in top vineyards and wineries. I knew these wines would be special from the moment I heard Brandon talking about rocks.
I highly recommend a visit to the Dragonette tasting room in Los Olivos as well as purchasing some of my favorites:
Any Sauvignon Blanc you can get your hands on. Their SB's are some of the best I've had from California.
2010 Pinot Noir Santa Rita Hills (look for the next vintage due out soon)
2010 Pinot Noir "Black Label"
2010 Seven (Grenache, Syrah, Mourvedre named after the seven vineyards from which the fruit comes)
(Note: Many of the wines show up as "sold out" on their website, but they are about to release new vintages so get on their mailing list!)