The journey into the Anderson Valley is not an easy one, but it sure is pretty. From the west, the road follows the Navarro River in from the coast through a Redwood forest. From the east, it twists tightly like a roller coaster, weaving through a band of oaks. After an hour and a half drive north from San Francisco, I exit the 101 and go west. About 20 miles in, I start to see fragments of rural life: a litter of wild pigs, a small rustic barn with goats and chickens and a barking dog, sheep grazing in a vineyard. That's when I know I am close.
I am headed for the town of Boonville, the heart of the 25-mile stretch that makes up the Anderson Valley grape-growing region in Mendocino County. Boonville is hardly a town by my standards with a population of about 700, no bank or ATM, no hospital or pharmacy, not even a post office. After stopping to pick up lunch at Boont Berry Farm, a small organic market inside weathered, dark wood walls, I drive slowly keeping an eye out for Mary Elke's hidden vineyard. I spot a sign, hand-painted on a wood plank: ELKE 900 feet. I turn right onto a bumpy dirt road, my car rattling along, stirring up dust behind me. Mary and her black and white dog, Ben, emerge from a row of vines to greet me.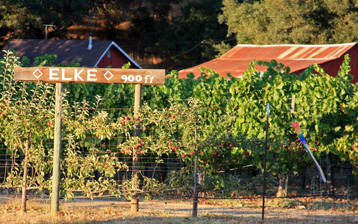 Mary is a farmer. Her long grey hair is pulled back in a ponytail under a baseball cap. She looks comfortable in sneakers and khakis and a white button-down cotton shirt. Her skin is lightly tanned. We sit at a table just outside her recently opened tasting room – a little red shack. Mary tells me the story of how she met her husband and how they became vineyard owners.
Twenty-five years ago Mary was working at a law office studying for the Bar. Everyone stayed away from Tom Elke, the "crazy genius" down the hall who started Stanford undergrad at age 16, then graduated Stanford law school second in his class (between U.S. Supreme Court justices William Rehnquist and Sandra Day O'Connor). When Mary's boss scoffed at her idea to start a profit-sharing program for his employees, Tom, who had overheard the conversation, walked out of his office and said, "Mary, that's a great idea! Why don't you come work for me?" Four years later they married.
Two years after that, their good friend Frank Farella, also a lawyer, convinced them they should purchase a piece of land in Napa (next to Frank's) so they could all plant vineyards together. His argument was compelling: "It will be fun!" At that time in Napa (1978) there were more walnuts planted than grapes. They were pioneers in Coombsville, where their vineyard still thrives today. They made mistakes along the way but were right in planting Pinot Noir, which landed them a long-term contract supplying grapes to Robert Mondavi. When I ask Mary what her greatest mistake was over the years, she says, "Not buying more land."
When it came time to raise a family, Tom and Mary decided to move to the Anderson Valley to get away from the "spoiled" life surrounding the Napa Valley boom. "We wanted to live in the country, a place with hard work and real people," she says, somewhat mocking their old ideals.
And real is what they got. They spent their first winter living in an old prune-drying shed on their property. With two kids in diapers, they had no heat, no washer or dryer, just a wood burning stove. "It was the coldest winter of my life." Mary says. This is when I learned that the Anderson Valley is one of the coldest grape-growing regions in California. The fog follows the Navarro River in from the coast and blankets the valley with low-hanging cool air. Mary says it's typical to see 40-degree nights for 90 days at a time.
When they bought their property, it came with a ten-acre apple orchard. Mary took over the management and within two years converted it to organic. "We were living on the property. Our children were living on the property. We didn't want to be exposed to the chemicals," she says.
Mary started making her own brand of organic apple juice. She built a successful business, at one point selling 5,000 cases a year to health food stores all over California. Then tragedy struck. A maggot scare forced Mary to quarantine the orchard. She had to bury two years worth of apple crops. It would take her years to recover. "I just didn't have the heart to start all over again," she says.
They had been thinking about growing grapes for a while as they watched vineyards pop up throughout the Anderson Valley. So they pulled out all their trees and replanted the land to grapes. They partnered with some friends to buy an additional 80 acres of land just up the road. The Donnelly Creek vineyard, as it's known, supplies grapes to some of the most highly regarded wineries in California: Mumm Napa, Roederer Estate, Radio Coteau, Copain Wine Cellars, Au Bon Climat, Far Niente, ICI/La-Bas, Franciscan and Breggo Cellars. She keeps all the grapes from her original home site for the Elke wines.
Mary walks me through her vineyard, old Ben not leaving her side. Full bunches of grapes dangle from the vines. It's the end of September and they'll soon be harvested. She points to a row and says, "This is the Stang clone. I'm the only one in the Valley who grows it." Grape clones add yet another layer to the complex story of wine. Clones come from mutations in the vine's genetic code and can account for specific characteristics in a grape. Some winemakers even put the name of the clone on their wine labels. Mary uses the rare Stang clone in combination with other clones to make up her unique wine blend.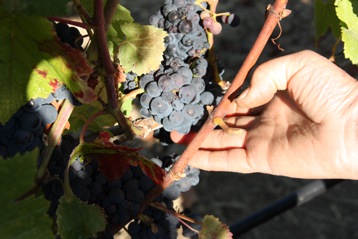 Mary and Tom no longer live on the vineyard, but three of her employees and their families do. There aren't many housing options for people working in the Anderson Valley – no apartment complexes, limits on water and building permits – so providing these benefits not only breeds loyalty, but it also means she doesn't have to rely vineyard management companies to supply labor. Her workers have a vested interest in the vineyard and she maintains control over how the vines are treated. "Farming on a small scale, I can address the needs of the vines. Management companies tend to use blanket solutions to solve problems." Jesus, her vineyard foreman, has been with her from the beginning and takes care of the vineyard as if it were his own. She met him when he was harvesting apples at age 21. Now he is 50.
I ask Mary what she hopes for the future of the Anderson Valley. She says that the valley is not able to sustain much more growth. There is sparse land available for development and limited water. Unless something drastic changes with the infrastructure, grapes will remain as they are now, in limited supply.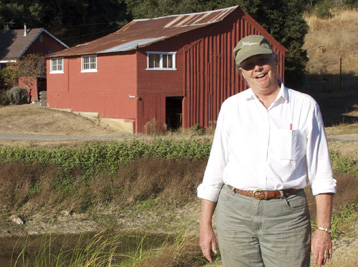 Mary is fine with Anderson Valley staying small and rustic. "Napa can keep its glitz and its chateaus," she says. She likes the character of the valley and it's "human scale." However, she would like to see the region get the attention it deserves for producing wines that are top quality. With humor, Mary says, "I just look forward to the day when every third person stops calling it the Alexander Valley." The Alexander Valley is a grape-growing region in Sonoma, about 100 miles south of the Anderson Valley.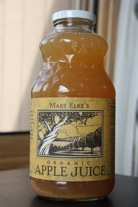 The Elke wines are the best values you'll find in the Anderson Valley. And Mary is still making her apple juice using organic apples from Jason Drew's property in nearby Mendocino Ridge. She sends me home with a case every time I visit. It's the best apple juice I've ever tasted.
Recommended Wines:
2009 Elke Vineyards Blue Diamond Pinot Noir, Donnelly Creek Vineyard, Anderson Valley
2009 Mary Elke Pinot Noir, Anderson Valley
2009 Mary Elke Pinot Noir
"Boonville Barter" (only available through winery)
2009 Mary Elke Chardonnay,
 Anderson Valley
2010 Mary Elke Pinot Gris, Donnelly Creek Vineyard, Anderson Valley